The much anticipated debut of Denmark's Mikkel Parlo in Bellator is finally here.  The undefeated middleweight will face American Jared "Honey" Combs tonight at the at The Nutter Center in Dayton, Ohio.  Both fighters made weight yesterday, with Combs (184.5) and Parlo (185.5).  The Bellator 78 card also features the Season 7 Welterweight Tournament semi-finals.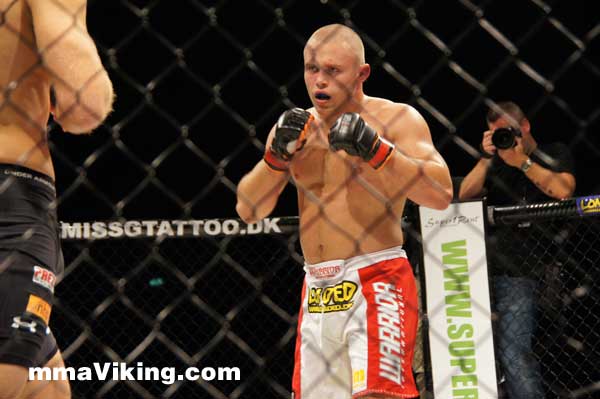 Play-by-Play
Parlo's fight will be on the preliminary card, which will begin at 3pm PST, 6pm ET, 00:00 Sweden/Denmark, and 01:00 Finland. He will be the third fight of the night.
Parlo enters the cage second. He looks relaxed against the local fighter from Ohio.
Round 1
Parlo looks to be bigger than Combs, but both are stalky fighters with a low center of gravity. Combs comes out as a southpaw, but Parlo lands the first good punch with a left hood one minute into the bout.
The wrestler tries some push kicks to keep distance from the Dane, and catches Parlo with a good punch just over a minute in that seemed to rock Parlo, and the American moves forward. Parlo seems to be blinking, and having some issues dealing with the southpaw.
A big left hand by Parlo, and he drops the American. The tide is turning, and Parlo begins punching his opponent as the American stumbles around the cage. Parlo is marching forward stalking his opponent looking for a finish. Looping power punches is what Parlo has in store, but no shot to end the bout just yet. Parlo, clinches with the hurt opponent, and may give the wrestler time to recover. The two break apart, and the American tries a kick with 2 minutes left, and falls on his butt. The punches must have hurt Combs, as he doesn't seem fully recovered yet.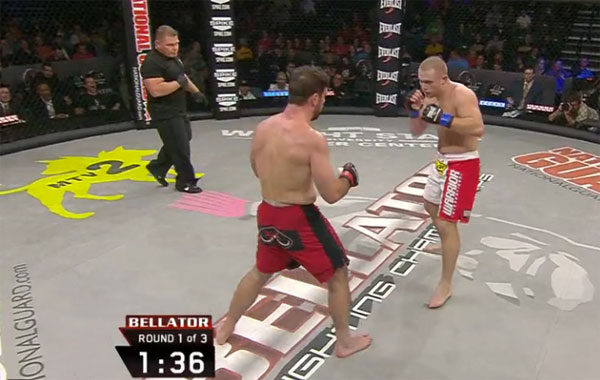 Parlo looking for a kill shot with less than 120 seconds left. He is composed, and looks to be in fantastic shape, and is rocking Combs again with looping punches. Parlo keeps great head movement and hands up high. He looks fresh as he again tags the American, and drops him again. Combs has a great chin, but it is just keeping him standing to be hit again, and again. This time a right and left puts the American face down on the mat, and Parlo has one last punch to force the referee to jump in.
TKO for Parlo, and he does his celebratory backflip. Late stoppage, as Parlo tagged the American over and over, but the Dane did what was needed. Big win for the Dane!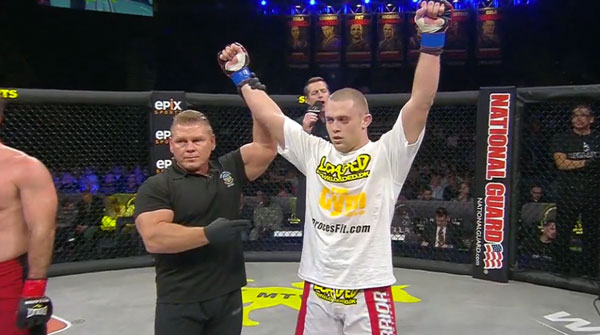 The referee jumps in to save Combs with just over a minute left in round 1.
Parlo runs his record to a perfect 9 wins and 0 losses. The official time is 3:51 in round 1.