Trophy MMA III takes place tonight in Malmö at the Amiralen.  The card is headlined by Swede Martin Svensson, who takes on Artem Labov.  Allstar Training Center's Jonathan Westin is the co-headliner as he takes on Grzegorz Lipski.  Results from the bout will be posted below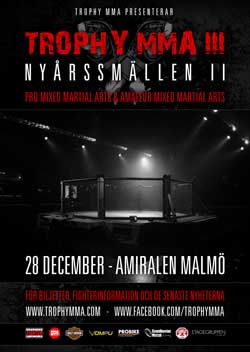 Main Card of Pro MMA Bouts
Erik Greisson vs. Stefan Johansson (77 kg)
Johansson wins in the second round by rear naked choke. The Swede making his professional debut tapped the Frontier MMA fighter Greisson.
Johansson by submission (rear-naked-choke) at 3:35 of round 1.
Christian Golcic vs. Mikael Gustavsson (Heavyweight)
Golcic won by ground and pound after using kicks to drop Gustavsson. The bout ends at 54 seconds in round 1.
Golcic by TKO at 54 seconds of round 1.
Jonathan Westin vs. Grzegorz Lipski (80 kg)
Westin taps out the Polish fighter in with a guillotine in 36 seconds into the fight after Lipski shoots for a takedown.
Westin by submission (guillotine) at 36 seconds of round 1.
Martin Svensson vs. Artem Lobov (66 kg)
Close first round as much of the time was spent against the cage. Low kicks from the local Frontier MMA fighter Svensson and a take-down toward the end of the round.
The two clinch again in the second round. Lobov is able to secure a take-down, but Svensson gets it back to the feet. The Irishman lands a solid hook sending Svensson backward. Lobov follows-up with ground and pound and the referee jumps in to stop the bout.
Lobov wins by TKO at 3:51 of round 2.
Play-by-play in Swedish can be found at Kimura.se.