The UFC on Saturday has officially announced the launch of UFC Fight Pass. So for now, English speaking countries including North America, Canada, New Zealand and Australia will be seeing live UFC events in Europe and other 'international' markets for $9.99 per month on the internet.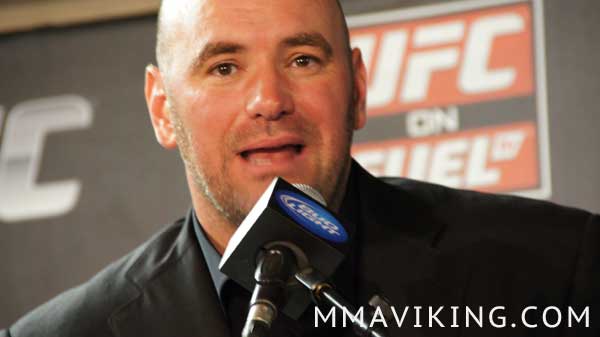 Marshall Zelaznik has lead the project, who is in charge of content, says there will be 10 "International fight nights" in Asia and Europe in 2014, which will be shown exclusively on the UFC Fight Pass". Fans will have a free trial from January 4 through February 28, but it will only be the paying fan for the March 8 card headlined by Swede Alexander Gustafsson and the UK's Jimi Manuwa.
The timing of the on-line pay-per-view model could impact the amount of fans that will see The Mauler as he is just one win away from another shot at the UFC light heavyweight title. Cards in Europe, such as the UFC in Sweden 1 and 2 cards, have found an outlet for fans in North America and beyond to see for free on Fuel TV, Spike, or other.
The first event on Fight Pass will happen on January 4 in Singapore when reigning Strikeforce welterweight champion Tarec Saffeidine, who was born in Finland, headlines the card against Hyun Gyu Lim.
"Netflix for the fight fan" describes the online service by Lorenzo Fertitta.
Dana White says "Zuffa has the biggest fight library on the planet, and with a UFC Fight Pass subscription, the fans will get access to thousands of fights from the entire history of the sport. This is what fans have always wanted. Subscribers will be able to watch, on demand, the greatest fights and greatest fighters in the entire history of this sport. And I mean everything, from Royce Gracie, Matt Hughes, Chuck Liddell and Anderson Silva, to Frank Shamrock, Wanderlei Silva, Kazushi Sakuraba and Fedor Emelianenko." Also included will be libraries of other MMA organizations that UFC has purchased backlogs… including PRIDE FC, PRIDE Bushido, Strikeforce, EliteXC, the World Fighting Alliance, Affliction Entertainment and WEC.
Additionally, there will be newly-created content for the service including regular behind-the-scenes reports, fighter diaries, UFC Upfront, UFC By the Numbers, UFC Fight Camp Insider and training tips. Plus, there will be exclusive content including the hotly-anticipated upcoming The Ultimate Fighter: Brazil season featuring rivals Wanderlei Silva and Chael Sonnen and future international editions of The Ultimate Fighter will be available exclusively on the UFC Fight Pass service.
UFC in Sweden events will also likely be Fight Night events that will be featured on the UFC Fight Pass network.