Cage Warriors 59 will include a four man bantamweight title tournament with David Michel Häggström representing Sweden. Häggström is a Renyi fighter and tells the promotion "My aim is to fight the best fighters, win that belt and prove to everyone that I'm the best bantamweight in Europe." Read the press release below regarding the one night tournament on September 14.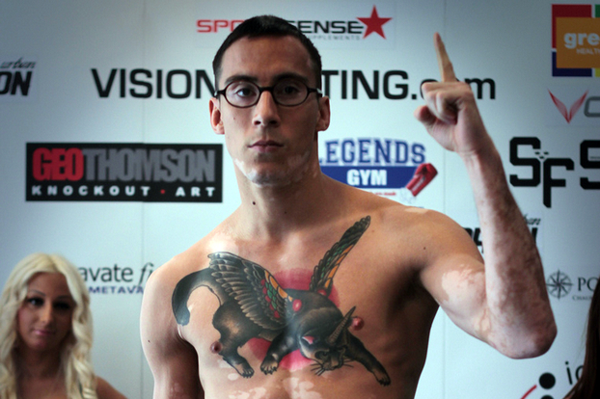 Press Release
A FOUR-MAN tournament will be contested at Cage Warriors 59 to determine a new CWFC bantamweight champion.
The vacant title will be up for grabs when Cage Warriors returns to the Motorpoint Arena in Cardiff, Wales, on Saturday, 14 September, 2013.
Englishman James Pennington and Sweden's David Haggstrom will join Welsh pair Martin McDonough and Brett Johns in aiming to clinch a belt that was vacated last year by Paul McVeigh prior to his move to flyweight.
The victorious fighter will need to overcome two opponents in one night for the right to be crowned Cage Warriors bantamweight champion, with semi-final pairings to be announced in due course.
Each semi-final bout will consist of two five-minute rounds and an additional overtime round will be contested in the event of a draw. Five five-minute rounds will be scheduled for the final.
The semi-finals will feature on the night's preliminary card, with the final forming part of the co-main event. A reserve bout will also be added to the card in order to facilitate any enforced withdrawals.
THE CONTENDERS
BRETT JOHNS (7-0)
The youngest participant in the tournament, undefeated Brett Johns is likely to have plenty of support at the Motorpoint Arena on September 14.
A native of Swansea, Wales, the 21-year-old is a judo black belt with a 2-0 record under the CWFC banner.
Following a comprehensive decision win against Sam Gilbert at Cage Warriors 49 last October, Johns picked up an impressive second-round TKO of James MacAlister at May's Cage Warriors 54.
"I want to thank Cage Warriors for this massive opportunity. It's a pleasure to be involved in this tournament in my own country in front of my family and friends," said Johns.
"It's going to be a tough night as the tournament is filled with high-level opposition. But this chance is a dream come true for me and I can't wait for it."
DAVID HAGGSTROM (7-1-1)
Currently ranked sixth in Europe, David Haggstrom will be returning to action for the first time since a TKO victory against Artemij Sitenkov in December.
The 27-year-old, a native of Umea in Sweden, also holds notable wins over CWFC veterans James Doolan and Janne-Elonen Kulmala.
"I'm really looking forward to fighting in Wales for Cage Warriors, which is Europe's best promotion," said Haggstrom.
"My aim is to fight the best fighters, win that belt and prove to everyone that I'm the best bantamweight in Europe."
JAMES PENNINGTON (7-1)
James Pennington, who fights out of Gym 01 in Portsmouth, is sixth in the UK's bantamweight rankings on the back of his impressive win against James Doolan at Cage Warriors 53 in April.
A team-mate of UFC flyweight Phil Harris and fellow Cage Warriors bantamweight James Brum, 26-year-old Pennington will compete for the CWFC bantamweight title almost three years to the day since making his professional debut.
Six of Pennington's seven wins have come via submission, five of them in the first round.
Pennington said: "I can't wait for this tournament to come. It's a huge opportunity for me.
"I'll show everyone that I'm the best bantamweight in the UK and I'll do it in style too. Watch this space."
MARTIN McDONOUGH (11-4)
The CWFC bantamweight title tournament's most experienced participant, McDonough will aim for Cage Warriors title success just 25 miles from his hometown of Abertillery, Wales.
With a 3-0 record on Cage Warriors, the 24-year-old has picked up Submission of the Night bonuses for each of his CWFC wins to date.
McDonough, ranked ninth in Europe, has overcome Dino Gambatesa, Alex Enlund and Mark Platts since making his debut for the promotion in October of last year.
"I'm really happy to be back fighting in Cardiff again because the atmosphere there is second to none," said McDonough.
"Fighting for a world title is something I've dreamt of since starting MMA so I'm thankful to Cage Warriors for this chance. I'm also excited by the four-man tournament format as it will really test the endurance and mental strength of the fighters."
The bantamweight belt isn't the only CWFC strap that will be on the line via a four-man tournament at Cage Warriors 59 in Cardiff on September 14. Keep track of Cage Warriors on Facebook and Twitter for the latest news and updates.