Mats Nilsson's win last Saturday night against Denniston Sutherland was the most impressive of his career. "It was close to flawless" says Rumble Sports head coach Tue Kutsikitsoq Trnka about the 2nd round stoppage over the experienced and dangerous UK fighter.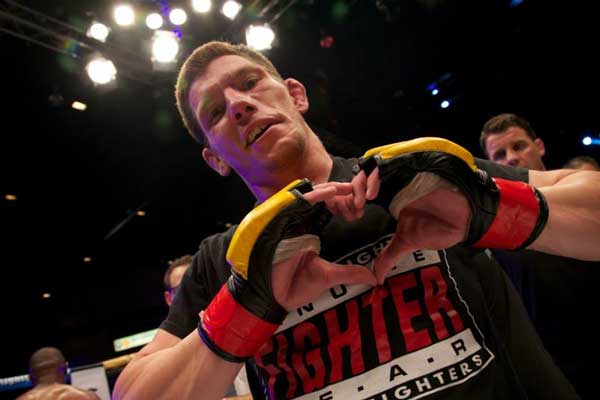 Nilsson's record improved to 11 wins, 2 losses, and a draw, and has now won his last 7 of 8 bouts, with his only loss coming to UFC's Tor Troeng just before he changed camp. "He came to me a bit over a year ago, because he wanted to take his training to the next level, so to speak. He wanted to go all-in and change from being a strong grappler to a well-rounded MMA fighter." continues Trnka about the fighter known for his grappling expertise and credentials.
"He's not just a strong grappler anymore. He's a complete fighter, now." says the coach. "I think a title shot is due." and the win over Sutherland who has "scored big wins over names like UFC veteran, Mark Weir, Jack Mason and Leeroy Barnes".
Learn more about Nilsson and the victory in this exclusive interview with MMAViking.com below.
Interview
How satisfied are you with win over Sutherland?
A win is a win and of course always satisfying. But to be able to finish such a seasoned and durable veteran truly feels great. He's tough as nails having gone the distance with the likes of Tom Watson and most recently Karlos Vemola. The fight went just how I wanted to and I feel that I was able to display an improved version of myself. Obviously I'm extremely pleased.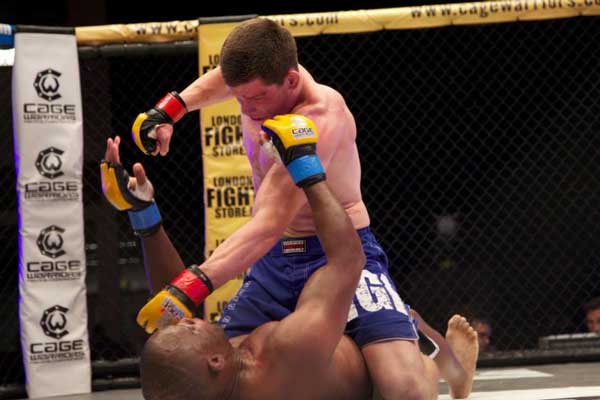 Talk about your evolvement since training at Rumble Sports.
I sought out Rumble Sports coach Tue Trnka ahead of my fight against Troeng. We had crossed paths before and I felt he had the tools to evolve my striking, turning me in to a mixed martial artist rather than a grappler. I had back to back fights that autumn and we only got a couple of weeks together before the Troeng fight which just wasn't enough. Now we've been working together for a year and a half now and I'm noticing huge results. Just look at my fights a few years back and compare them with my two most recent. There's still plenty of room for improvement in the stand up department but Rumble Sports is the right environment and Tue the coach for me to do so. I'm so much more comfortable on my feet now which in turn creates openings for my grappling.
Has Cage Warriors talked to you about timing for a next match.
We haven't talked any specific dates. But I believe we both agree on putting me in there rather sooner than later.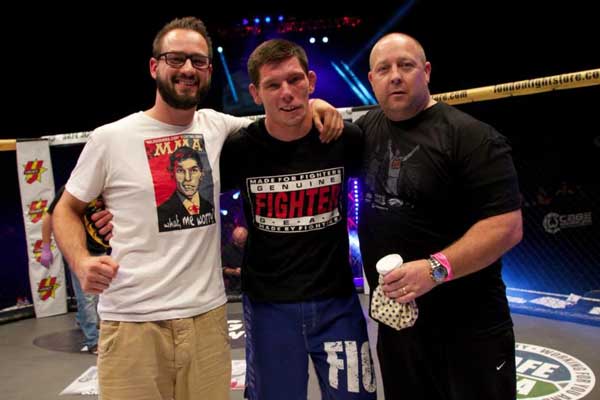 Is a title shot next for you? 
It would be great to get a shot at the vacant middleweight title. In fact I want it bad! But it's really not for me to decide, I'm with Cage Warriors and I fight whom ever they put in front of me.
Please list any sponsors or anyone you'd like to thank.
There's so many people to thank. First and foremost my lovely wife who puts up with me and takes care of our wonderful daughter when I'm off training and fighting. Coaches and team mates at Rumble Sports in Copenhagen – a great crew of feared fighters and competent coaches, but more importantly descent, humble and good human beings. My home away from home. Kaisho Kampsport, Helsingborg – All my friends, family and sparring at my local gym where it all started. Love your support!
The beautiful city of Helsingborg – I can feel you rallying behind me each time I fight! All you guys out there supporting me – I soak up every tap on my back and notice every message and all "likes". Thank you! It means a lot! Fighter Gear – my generous sponsor who keeps me equipped with quality gear and clothing. Breeze Fitness and Seth Ronland – for moulding me in to an athlete and making sure I'm in shape come fight time. Sydrev Revision och Redovisning – Blunt force trauma to the head and accounting isn't a match made in heaven. I'm happy to have Sydrev taking care of any and all numbers so I can focus on fighting.