The talks about UFC in Finland have started again. Zuffa has had its eye on Helsinki for years and November of last year the discussions picked up. Finnish combat sport veteran Auvo Niiniketo today Tweeted that the talks again have started with the Hartwall Arena as the targeted destination in Helsinki. While Niiniketo is cautious and says "have to sort out many things yet to come" about such an event coming together.
Russian billionaire Gennadi Timtsenko together with Russian-Finn Rotenberg family purchased the arena last year, and the event could serve to showcase Finnish and Russian fighters and also be a gateway for the UFC to St. Petersburg, where they have an established network and arena in St. Petersburg.
Niiniketo, who is the founder of Hokutoruy Ju-jutsu and one that has been involved with all kinds of combat sports related businesses, wrote that the negotiations have started and they are aimed at October 3rd or 4th, which is the same date as previously reported for the third UFC in Sweden.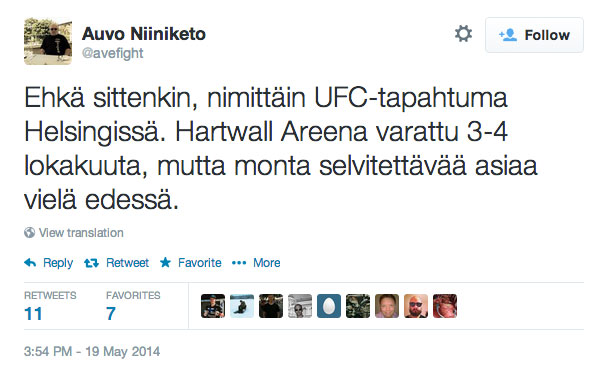 Hartwall Arena is the biggest indoor arena in Finland. It's mostly used for ice hockey but it has also served as a venue for major boxing events including the Super Six bout between Carl Froch and Arthur Abraham.
There is only one current Finnish fighter on the current UFC roster in Tom Niinimaki, who will fight Swede Niklas Backstrom in less than two weeks in Berlin.  A card in Finland could play host to Stoneface plus several more top Finnish fighters such as Anton Kuivanen, Tipi Hirvikangas, Marcus Vantinnen, Toni Tauru, and Katja Kankaanpää.
Like MMAViking.com on Facebook at facebook.com/mmaViking and stay tuned for updates.