The Careleia Fight 10 card goes down this Saturday headlined by Finn Antti Virtanen (8 wins, 4 losses, and 1 draw), MMA Imatra, versus Swede Jonathan "No Smile" Svensson (4 wins and 1 loss), Pancrase Gym.   The co-headliner is an international bout between Jonatas Novaes, CounterStrike Chicago out of Brazil versus Franceäs Nayeb Hezam,CrossFight Paris.  The 8 fight professional card in Finland can be seen online.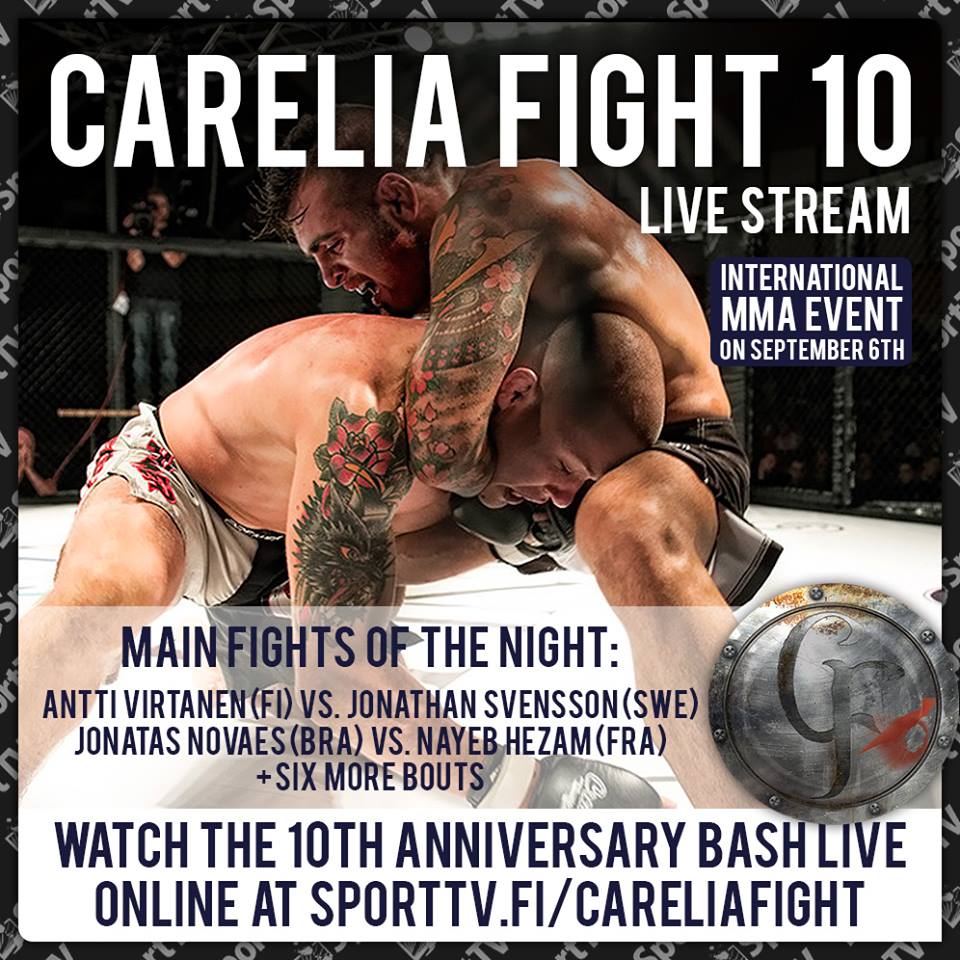 Finn Eeva Siiskonen (2 wins and 1 loss) is also making her return to the cage after being sidelined for one year due to injury. She will be taking on late replacement Inga Kaledaite (0 wins and 1 loss) a late replacement for Isabelle Pare.
Johan Vänttinen will also take on Lithuanian Vaidas Valancius. Vänttinen (11 wins and 4 losses) will look to make it three wins straight with another win. Jerry Kvarnstrom will take on the MMA Imatra undefeated lightweight Aleksi Savolainen who comes into the fight with two wins and no losses.
Don't blink when Aleksi Ridasmaa steps in to fight as the wild striker is sure to put on a show against France's Dagir Imavov Sausset.
Fight Card
Antti Virtanen MMA Imatra, Finland vs Jonathan Svensson, Pancrase Gym Stockholm, Sweden (70.3 KG)
Jonatas Novaes, CounterStrike Chicago USA, Brazil vs Nayeb Hezam,CrossFight Paris, France (75 KG)
Johan Vänttinen Helsingin Kamppailu-urheilijat vs Vaidas Valancius Knight Of Plunge Kaunas, Lithuania (77.1 KG)
Eeva Siiskonen MMA Imatra, Finland vs Inga Kaledaite, Knight of Plunge Kaunas, Lithuania (61.2 KG)
Jani Ridasmaa MMA Lappeenranta, Team EF, Finland vs Dagir Imavov Sausset Fight Team Marseille, France/Tsetsenia (74 KG)
Aleksi Savolainen MMA Imatra, Finland vs Jerry Kvarnström, Turun Urheilijat, Finland (69 KG)
Jari Illikainen MMA Lappeenranta, Team EF, Finland vs Timo Suihkonen KKU, Team BP, Finland (62 KG)
Juuso Halme MMA Imatra, Finland vs Juhani Aho MMA Seinäjoki, Team BP, Finland (68 KG)