Alexander Gustafsson (18-6) is ready to return to competition.  His first step back will be at AK Fighting Championship 3 tonight in Gothenburg, Sweden in a no-gi grappling fight against another Swede in prospect Anton Turkalj (3-0).  "I want to start with this. I got submitted in my last fight and I have trained a bit with Anton so I see this as a nice sparring session. A way for me to develop my ground game and maybe get some fight nerves going again with a show and audience." says the Mauler.
Fight card includes 4 MMA, 2 boxing, 2 muay thai, and the headliner no-gi matchup.
Live Results
All fights will take place in a boxing ring. A sold out event going down at the Gothia Towers in downtown Gothenburg.
Ernad Jasarevic vs Hamza Barka (boxning)
Barka landing some bombs early, looks to be the quicker fighter. Big right hand stuns Jasarevic.
A few body shots in the second round, and Ernad does not want any more. Stays down for the full count. Second round stoppage for the Swedish based fighter.
Sayed Rohullah Mosawi vs Nasim Kazem (thaiboxning)
A real spirited first round with both fighters landing, but the second was all Nasim Kazem that just started landing huge bombs that had Mosawi stumbling around the ring. Stoppage in round 2.
Ilya Lupinov versus Zvonimir Kralj
The GBG fighter getting a pop from the crowd as Kralj enters the cage last. Our first MMA action of the night!
Lupinov lands some good shots and as Kralj ties up, Ilya throws a head and arm throw. But it is Zvonimir that is able to to reverse the position and move into full mount. Now unanswered ground and pound, and this fight is all over at 2:15 in the second round for the Sweden based "Croatian Sensation.
Amilia Kapri vs Cornelia Holm (MMA)
Kapri is the first to enter the ring. Holm is the local here, and takes advantage early with a take-down. The Swede moves to half guard, but can't get enough room to land. Amilia has a hight guard, forcing Cornelia to posture up. Not much action here. The GBG based fighter lifts Kapri up and slams her to her back, then controls from top until the bell rings.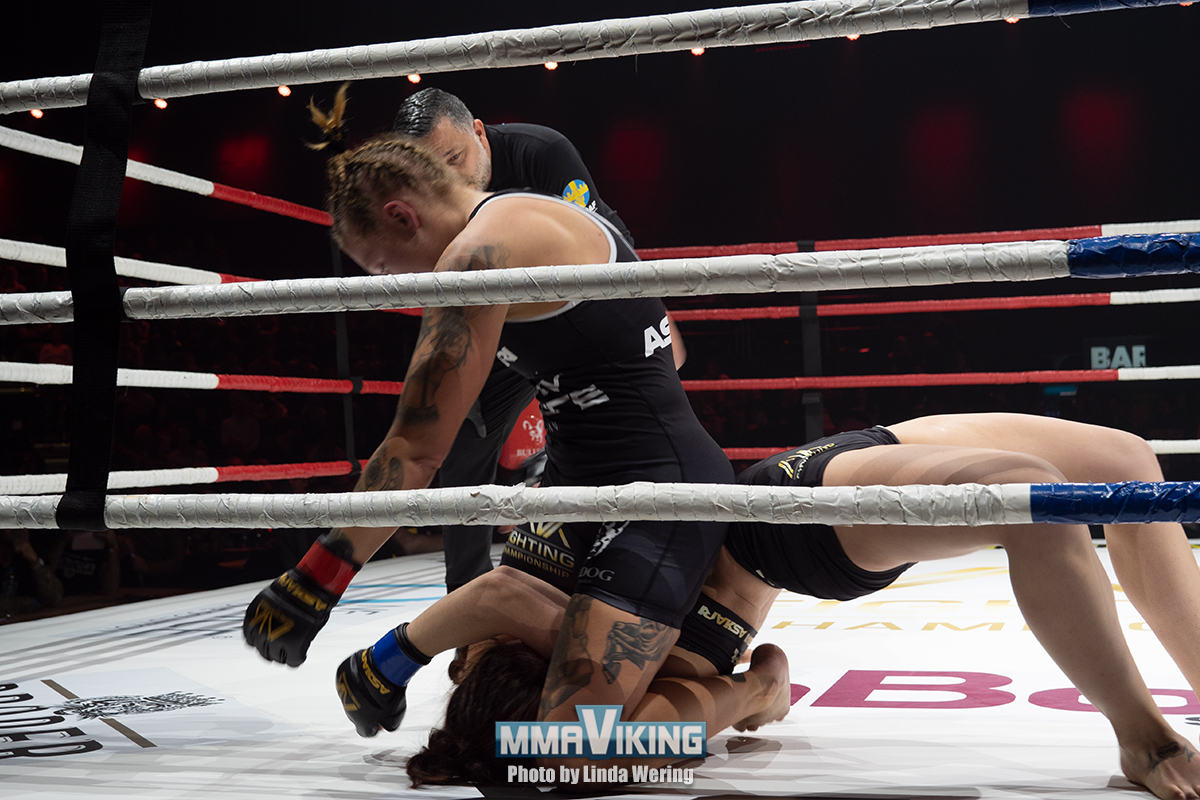 Holm threating with head movement on the feet, then decides to shoot in and take the fight to the ground. Not much resistance from Amilia against the skilled wrestler. Now full mount for the former IMMAF champ that is just raining down punches.
More and more punches form the top, and it is all over. Holm with the second round TKO.
Ilia Erastov vs Sahil Siraj (MMA)
Siraj is the local fighter out of Fighter Centre, and with him comes the IMMAF founder and Nordic MMA pioneer August Wallen, plus UFC vet Besam Yousef. Erastov gets the fight to the ground, but Siraj gets it to the feet quickly and lands some good knees. Now a big left from Sahil and Ilia is rocked. The next straight left punch lands again, and Erastov will not be getting up from that shot. Sahil Siraj wins by TKO stoppage, and says that some day he will be in the UFC.
Mikaela Laurén vs Patricia Ramirez (boxning)
The Swede lands big shots early, and coming over the top in the 6 round fight. Easy work for Mikaela in the first two. The third round the Swede is really sitting down on her shots, while Ramirez is slowing. A big right at the end of the third.
Mikaela is using a left jab to set the tone in the 4th, and followed-up with some solid shots. Another good round for the Swede heading into the final round.
A spirited fight here, and Patricia is not giving up, although losing each of these rounds. The power of Lauren is making the difference as she hammers away to the final bell.
Unanimous decision for Mikaela Laurén. The Swede says she may fight again, but this may be her last time.
Binh Son Le vs Hamza Bougamza (MMA)
Bougamza jumped on a plane yesterday to take the fight. "I love to do this…. I have to do this." says the Allstars Training Center.
Round 1 – Le taking his time, and jumps in for a double-leg take-down, which he finishes. The Bellator vet moves to side position and lands some good knees to the body. Hamza is moved to the center of cage after falling under the ropes. Back to the feet, and the striker just misses a knee to Binh's face as he tries for another take-down. Now in the clinch. Hamza lands some good high left kicks at the end of the round.
Round 2 – Binh shoots for a take-down, but the attacks are getting slower and Hamza is seeing them coming. Not much action, but Hamza is controlling the distance. Both fighters are southpaw, and now Hamza is landing hard left kicks to the leg and head. Sharp left hands, and Hamza is feeling confident. Blood is coming out of the nose of the local fighter, and Hamza presses the action, landing a knee the drops bing, but as he walks off he thinks it is over, but it was not stopped. On to the third.
Round 3 – A high-five to start the third round, and looks like that left kick might have come a bit early from hamza immediately after. But, no damage done. Hamza just walking down Binh, but he catches a kick and nearly scores a take-down. Binh in on the legs and explodes for a take-down but Hamza flies through the ropes, and restarted and Hamza escapes. A few knees to the face from the Allstars and should be a decision for the decorated striker.
Hamza Bougamza wins by unanimous decision.
Sanny Dahlbeck vs Jonatan Larsson (thaiboxning)
Oh, a title on the line here, as the sparkling belt is walked around the ring.
A closely contested first round, where the fighters are mostly feeling each other out. Sanny seems pleased after the first frame and raises his hands.
Sanny landing some good knees in the clinch and pressing the action. Larsson lands a big right elbow rocks Dahlbeck at the end of the second.
Both fighters leading with lead elbows, and now Dahlbeck with an overhand left that stops the fight. Larsson can't get up, and is counted out.
Alexander Gustafsson vs Anton Turkalj (Nogi Superfight)
This is a battle of two Swedes. Alex, that started his MMA career in Gothenburg and Anton that call GBG his home now.
Both settle in to a tie-up early. Mostly hand fighting for the start of what is a planed 10 minute round. Anton with some take-down attempts, but Gustafsson defends them easily. The Mauler looks for some foot sweeps, but not commiting too much. Gustafsson looks for head position, not letting Turkalj tie-up.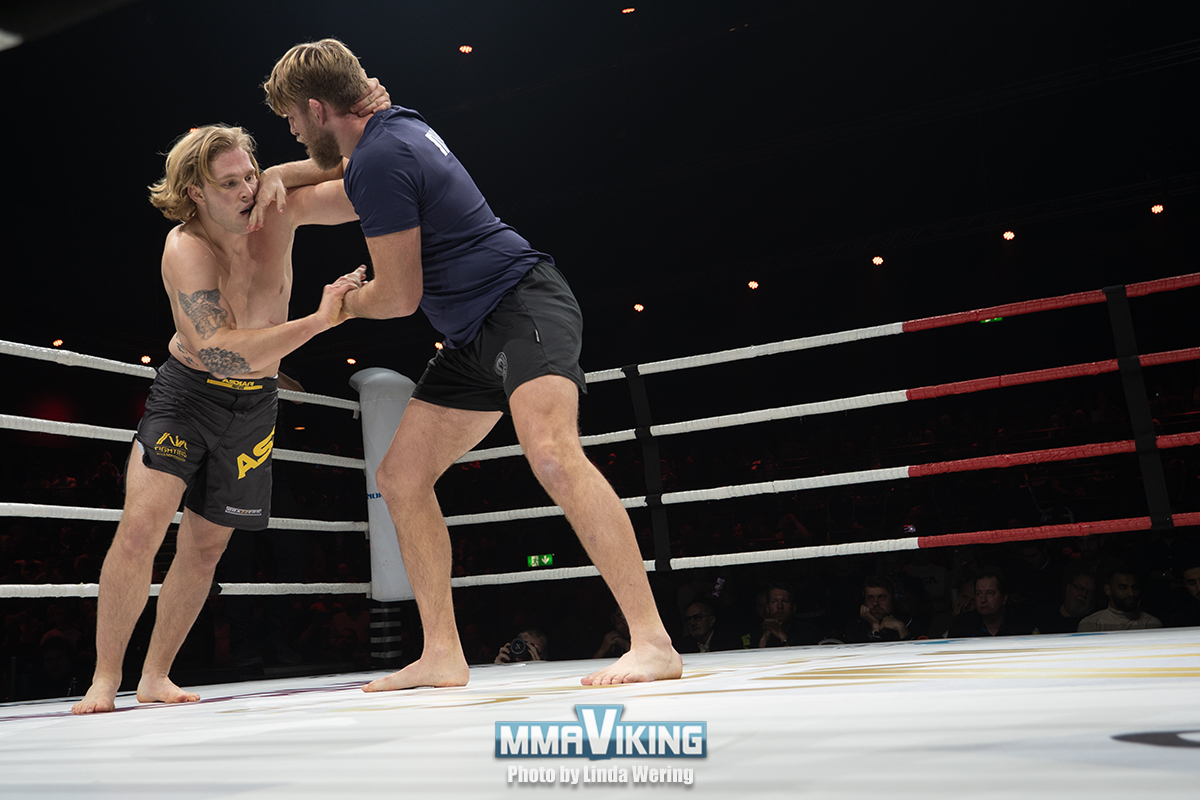 Three minutes left and the pace quickens, and Anton goes for an arm drag, but Gustafsson squares up. The "Mauler" is in on a take-down, and trying to finish as he locks hands around both of the legs, but it is against the ropes and Anton defends by wrapping his elbow over the top rope, and now they are back in the middle.
A surprising "Anton" chant starts, and both fighters frantically looking for an opening. Alex has another double leg with less than a minute left, and again looking to finish and locking hands and up with a single leg, but can't finish. Anton now shooting in at the end, but can't get in as Alex defends as time runs out.
Gustafsson is declared the winner by points, but he is gracious and raises Anton's arms. Although the crowd is trying to get him to commit to a comeback to the UFC with the help of post-fight interviewing pushing, Alex is non committal on any comeback. "We will see what the future holds" says Gustafsson that was happy about the turnout and the crowd for the promotion that he is part owner of.
MMA Viking with a few words from Alex, after he told two reporters "I will see…. let's see what happens" several times when asked about a comeback.