European MMA (EUMMA) 9 takes place tonight in Denmark. Headlining the card is Greco Roman Olympic wrestler Mark O. Madsen (1 win, 0 losses) who faces UK's Chay Ingram (2 wins, 2 losses) from England. There is a European MMA title fight between local Maria Hougaard Djursaa who will face the tough and durable Annalisa Bucci of Italy.  Prospects Swede Emil Hartsner and Dane Soren Bak are also on the card, plus the pro debut of Roger Huerta.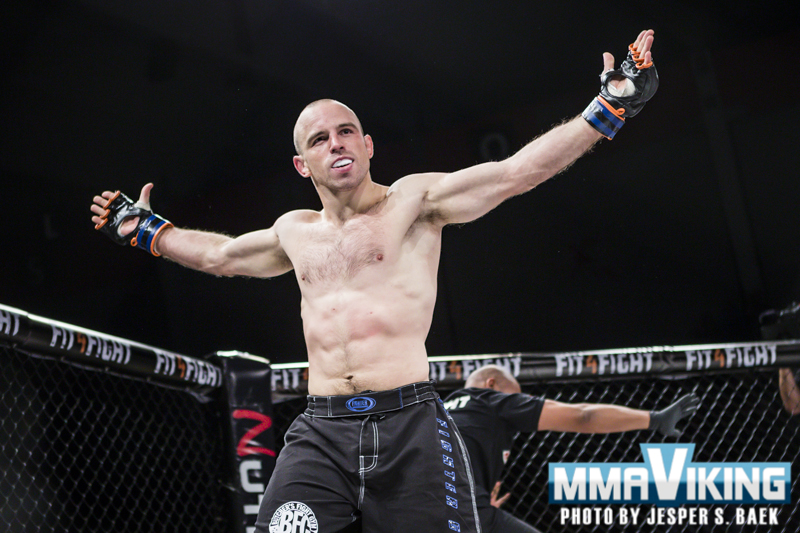 Results
Results from the event will be posted below.
Sergej Morari (Moldova) Vs. Rasmus Muss Mattsson (Sweden) -66 kg
Round 1
Both fighters start out with a clinch. It is Mattsson that is able to control, and gets it to the ground early. Marari looking for a triangle, but can't get it… now an armbar, and the Moldova fighter looks to have a strong bottom game. Mattsson escapes an armbar, and decides it's best on the feet.
The stream stopped working, but Pannie Kianzad who is cageside has told mmaviking.com that Mattsson won by first round armbar.
Mattsson won.
Emil Hartsner (Sweden) Vs. Dmitry Shapoval (Ukraine) -61.2 kg
Pannie Kianzad who is cageside has told mmaviking.com that Hartsner won by first round submission by rear naked choke.
Hartsner by RNC in round 1.
Roger Huerta (Denmark) Vs. Sergej Kramer (Germany)
Poul Roest who is cageside has told mmaViking.com that Huerta won by decision.
Huerta by decision.
Cazim Halimi (Danmark) Vs. Vs. Jamies Reynolds (England) -61.2 kg
Reynolds is on top, and Halimi looking to sweep. The round is over and Reynolds is back on top. Reynolds with a rear-naked choke, and it is over.
Reynolds wins by rear naked choke.
Søren Bak (Denmark) Vs. Rhassan Muhareb (Denmark) -70 kg
Round 1
The cheers are all for Bak in this one.  Muhareb does not want to get taken down as he keeps his distance, but The True Viking takes full mount after taking down Muhareb.  Bak can take the arm any time, and now goes for an arm triangle from full mount.  It looks tight, but he lets go in favor of more elboys.  Now a triangle from the top, and now the tap.  Full domination from Bak in this first round submission.
Bak by submission in round 1.
Maria Hougaard Djursaa (Denmark) Vs. Annalisa Bucci (Italy) -66 kg – TITLE BOUT
Round 1
The two begin exchanging on the feet early.  Djursaa lands a nice knee at the end of an exchange.  Bucci is active with kicks both high and low, and looks like she has hurt the Dane and rushes forward with punches and kicks.  But Djursaa looks to recover now.  Again, big right from the Italian followed up by a flurry.  Djursaa gets the fight to the ground, and moves forward.  Djursaa looks to dominate here, and Bucci looks in trouble… but it is back to the feet.  Bucci again looks to be the crisper tonight.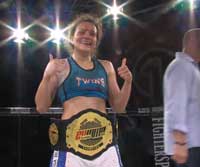 Round 2
The two are slugging it out, and Djursaa looks to land elbows in the hot exchange.  Bucci mixes in kicks.  Good left from Djursaa, and this fight is going into overdrive early in round 2.  The Dane is working hard to get this to the ground but Bucci defends well against the cage.  Nice left jab again from Maria.  The two are against the cage again, and Djursaa lands a sneaky knee to the face.  Again the two exchange hard punches, without a true fighter taking command.
Round 3
Bucci is coming out big in the third, landing heavy punches… left and rights.  The visitor is bloody, but moving forward looking for a finish in this high paced fight.  Nice double-leg take-down from Djursaa and she has Bucci with her back against the cage.  What a fight!  Bucci battles to get up for a bit, and now she grabs a single leg, but Djursaa looking for a guillotine, but lets go.  Now the two are standing again, and a big fight hand from Bucci who continues to move forward.  Big right kick to the face from Bucci.  The Dane can take a shot!  Thew two are throwing elbows back and forth, mixed in with punches.  What a fight.  Evenly matched battle.
Djursaa's left eye is swollen as she awaits a decision.  Buccie looks to have a cut on her forhead that will require some stitches, but she smiles and gives a thumbs up.
Annalisa Bucci wins by decision.
Mark O. Madsen (Denmark) Vs. Chay Ingram (England) -70 kg
Bellator fighter Mikkel Parlo is in the corner of the Olympian.
Round 1
Madsen is composed as he shakes hands, looking very relaxed.  Once the gloves are touched it's the wrestler that moves forward with striking.  A barrage of punches from the Dane, and Ingram is covering up.  A quick shot from the UK fighter, but it is easily stopped and Madsen gets behind and a suplex to the ground!  More ground and pound, and Madsen is looking for a finish.  Both are standing after the wild exchange on the ground, and on the feet Madsen is moving his head nicely as he looks for a kill shot.  A right hand seems to have rocked Ingram, and he is on his back as Madsen throws hands.  Again Madsen's punches have hurt Ingram.  Ingram lands a punch, and Madsen takes the fight to the ground.  Ingram scrambles, and Madsen starts on a front headlock, but switches to a guillotine and stands up finishing it as Ingram's feet dangle in the air.
Madsen wins by standing guillotine.