Fight Club Rush (FCR) was the first Nordic MMA promotion to put on a card during the corona virus times.  Fight Club Rush 7 went down today at the usual location in Västerås, Sweden, but due to safety concerns, there were no fans or media cageside.  Get your results of all the fights, plus play-by-play of the main event between Moein Ahmadi and Elvin Hoxha and the other pro bout Fadi Asfar that will face Rohullah Yousofi.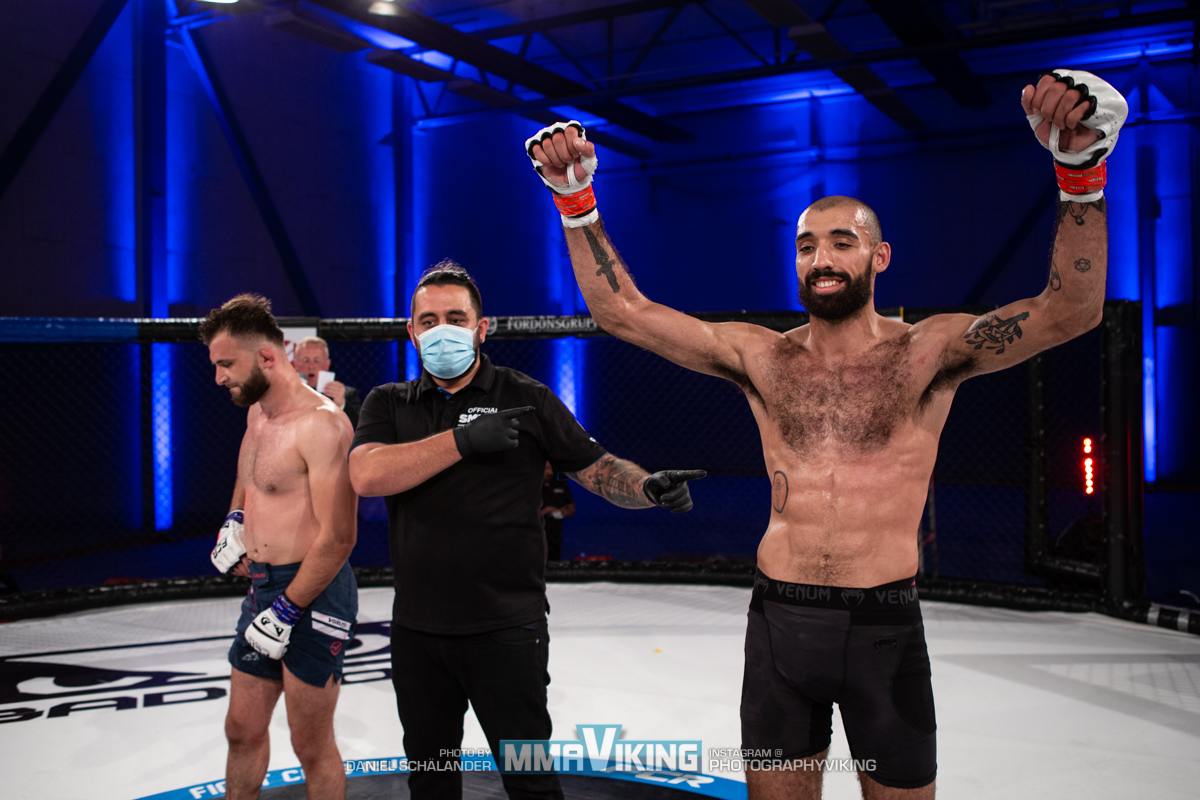 UNDERCARD
Dimitris Dimitriadis vs Seid Emin Makaev – Amateur Lightweight
Makaev in on very late notice from Allstars Training Center.  A great performance from both fighters, and a strong finish for Dimitriadis in the last few seconds to get the unanimous decision win.
Johan Dahl vs Tobias Wallberg – Amateur Welterweight
Full mount and aggressive pound and pound from Dahl that is able to sink in a rear-naked choke.  40 seconds in the second round.
Daniel Karlsson vs Oskar Carlsson – Amateur Light Heavyweight
Solid three round battle for the fighters with the same sounding last name.  Carlsson gets the unanimous decision victory.
Alexander Lindgren vs Vincent Petersson – Amateur Middleweight
Lindgren used his knees effectively and defended take-downs to get the unanimous decision win.
Rahmads Stromanis vs Abdallah Habib – Amateur Welterweight
Stromnis comes in strong, with big punches ant take-downs against the tall fighter.  Out of nowhere, Habib cracks Rahmads with a right headkick dropping the fighter and then another punch to put a nail in the coffin.  This is over at 2:51 in Round 1.
MAIN CARD
Daniyal Shamkhalov vs Sebastian Furmanek – Amateur Featherweight
Shamkhalov with a TKO victory in the second round as he just poured on the offense to stop the fight at 1:56.
Abdurakhman Nasrutdinov vs Basir Safdari – Amateur Bantamweight
Safdari out of Pancrase gym, and just a mad 15 minutes as the two went back and forth all the way to the final bell.  Safdari wins split decision 29-28, 28-29, 29-28.
Fadi Asfar vs Rohullah Yousofi – Bantamweight Pro Fight
Solid left hand from Yousofi to start the bout.  And these guys are quick!  Rohullah the southpaw.  Asfar with a big kick in between counter wrestling.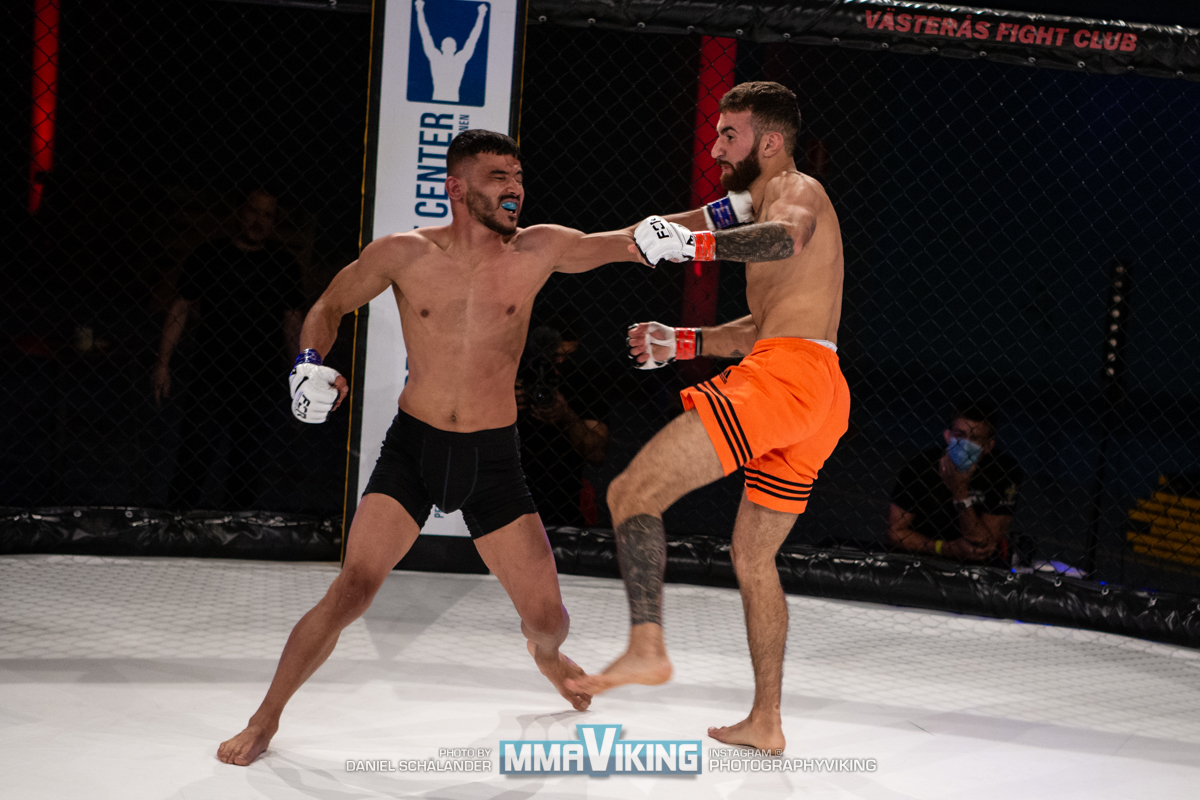 Yousofi in on a take-down, but it is reversed by Asfar that steps over and snatches the back, then RNC to finish the bout.  Wow.  Just fireworks throughout for the pro debuts here. 2:20 of round 1 win for Asfar.
Moe Ahmadi vs Elvin Hoxha – Lightweight Pro Fight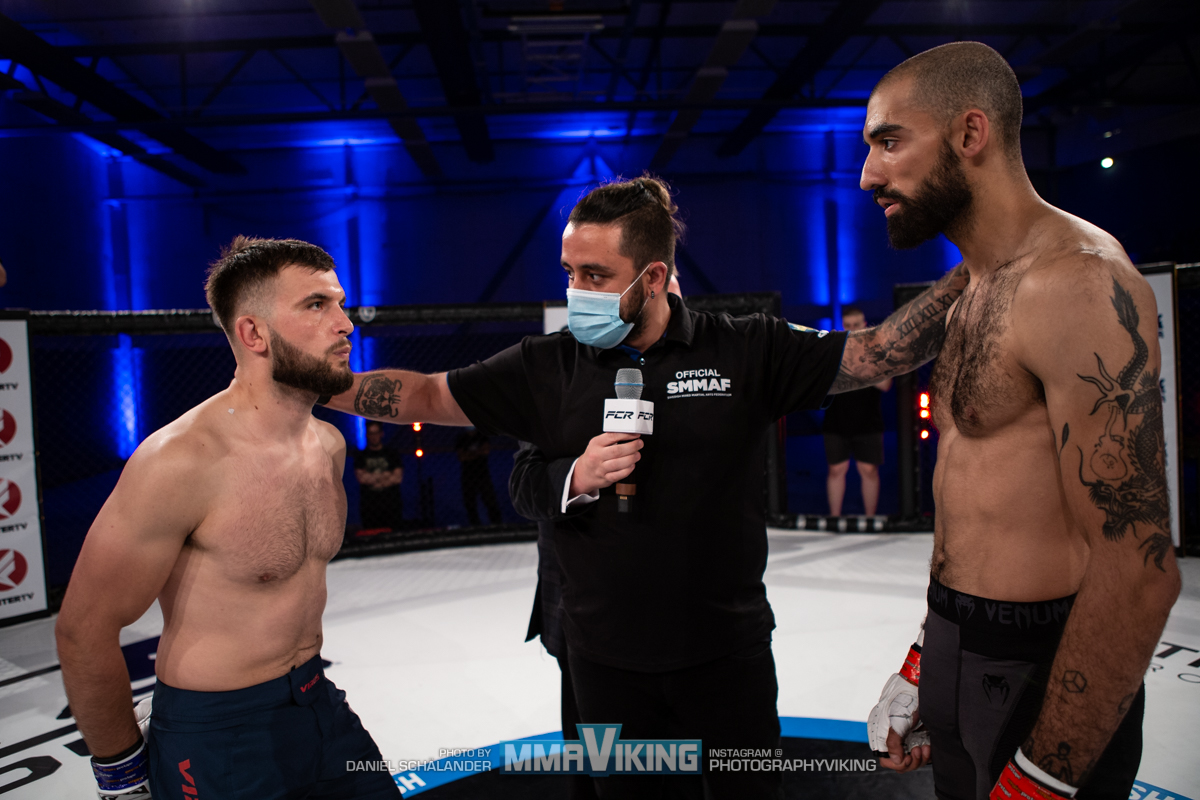 Round 1
Ahmadi landing kicks early, and the reach is making all the difference.  Hoxha lunges in with an overhand left then manages to get a take-down.
Kimura to sweep and Ahmadi, the Pancrase fighter, on top.  Elvin is now on top half way through the round, and sitting landing some punches to the body as Moe looks to set up a submission.  High guard, and then a quick arm triangle attempt.
Round 2
Ahmadi with a swift left kick to the body.  Some success for Elvin gain with that left hand.  Hoxha moving forward.  Solid overhand right from the Pancrase fighter, and Elvin doesn't want it on the feet anymore and dives in to a double-leg take-down.  Ahmadi has his back against the cage, and now on his back.  However he throws his long legs up, with one over the arm.  Moe squeezes with his hand locked around his knee and yells that Elvin tapped.  The fight is now over at 2:47 seconds of round 2.