Three Vallhall Gym fighters will be on today's Almighty Fighting Championship 5 card at the 02 Academy in Leeds.  Kim Thinghaugen (5-3) will headline the event for the belt, and Quinten de Vreught (1-0) will have his second pro bout on the main card. Fredik Hoifodt is also in an amateur bout on the undercard.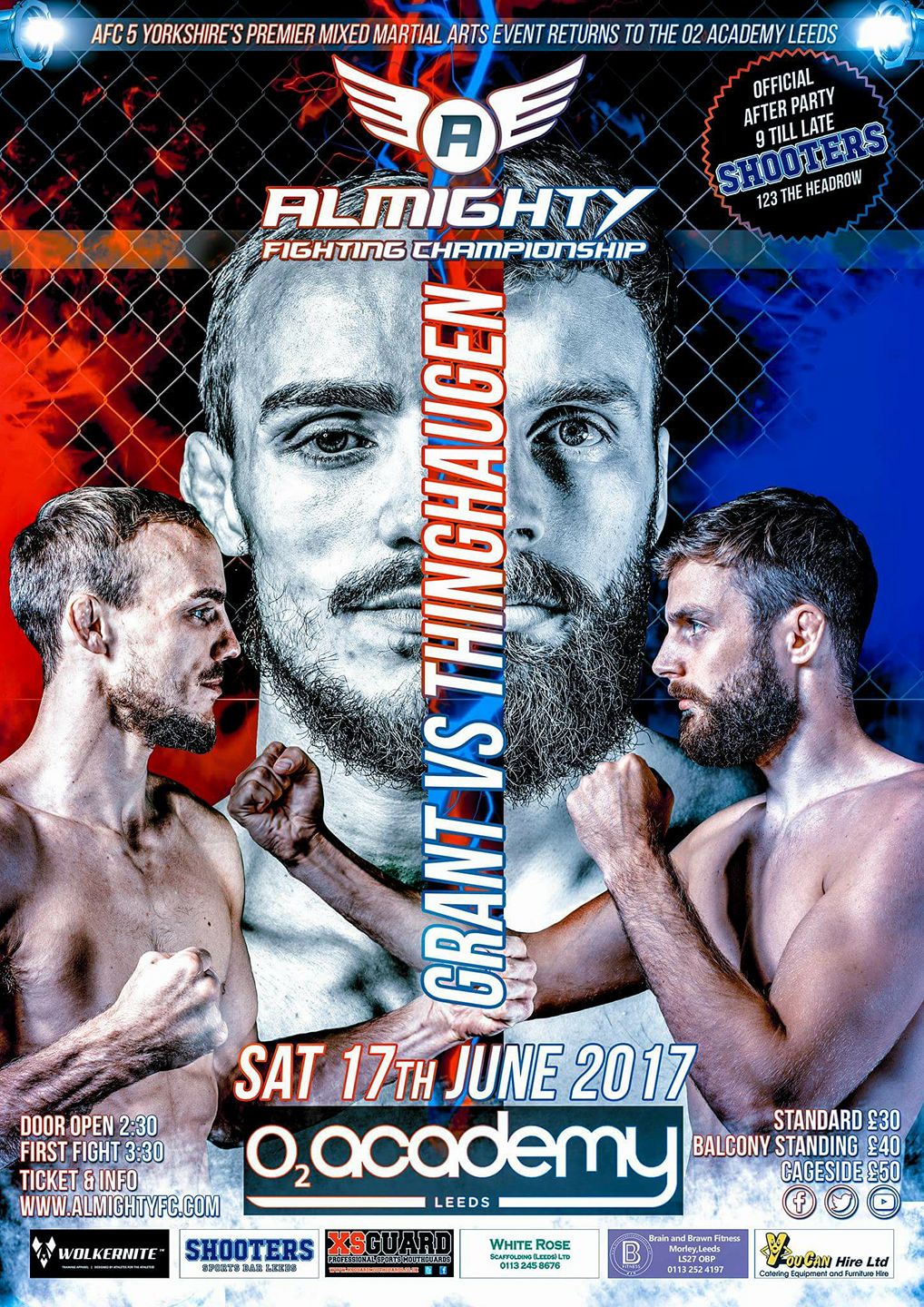 Thinghaugen is coming off a win at Contenders 17 in December, and has an overall 5 win and 3 loss record.  ""I think its a good match up, i will have my hands full every where the fight goes but still think I'm better everywhere" says Kimbo that takes on the experienced Englishman Jack-Grant (11-4) for the 70kg Title ASW belt.
Quinten de Vreught facing Englishman Dave Sutcliffe (0-1). "My goal is to test my skills against high level opponents, and keep challenging myself to improve every day." says the Hybrid Viking.
Valhall's Fredik Hoifodt (1-0) will also take on Kadeem Stewart (3-2) in a 73 KG bout. He beat Dylan Evans at Contenders Norwich 17 back in December in his amatuer debut bout.
Fight Card
Pro Card
Lightweight Title : Jack Grant 11-4 ASW v Kim Thinghaugen 5-3 Vallhall Gym
Featherweight: Jordan Desborough 10-4 SBG UK v Tom Mearns 4-0 BST Northampton
Welterweight: Rastislav Toth 2-2 Team HaratMMA Hull v Tricomitis Andreas debut Proper Gym
Welterweight: Dave Sutcliffe 0-1 Hyde MMA v Quinten Dv 1-0 Vallhall Gym
Amateur Card
Bantamweight: Craig Skelton 6-3 Kao Loi Gym v Chris Mike Hayes 2-5 Exiles/Fuzata Muay Thai
Lightweight: Stuart Graham 5-3 Fight Ministry Hull v Ryan Grayson 2-1 Middlesbrough Fight Academy
Light Heavyweight: Matty Byfield 2-1 UTC v Dawid Oskar 1-1 Independent Steele
Catchweight 73kg: Kadeem Stewart 3-2 ASW Manchester v Fredrik Hoifodt 1-0 Vallhall Gym
Lightweight Tournament Final and Title: Kieran Lister 10-3 Dungeon MMA v Nicolae Pirogan 6-0 Gorilla Fight Team
Lightweight: Tony Wood Debut Revolution Martial Arts Academy v Louis Blair debut Scramble Academy Leeds
Middleweight: T King Rhino Daley 1-4 Wild Humble Fighting v Mikel NB 2-1 Notts MMA
Featherweight: Nathan Bowler Debut Revolution Martial Arts Academy v Dylan Ó Donovan debut SBG Cork
You can watch the Almighty Fighting Championship 5 card (£6.99) here