Valhall Gym's Kim Thinghaugen landed the first twister in the Nordics in February in the main event of Warrior Fight Series 5.  "I kind of taught myself it… I just watched an Eddie Bravo video to learn the set up" said the Norwegian to MMAViking.com about the unique submission that earned him mmaViking.com's 2015 Submission of the Year.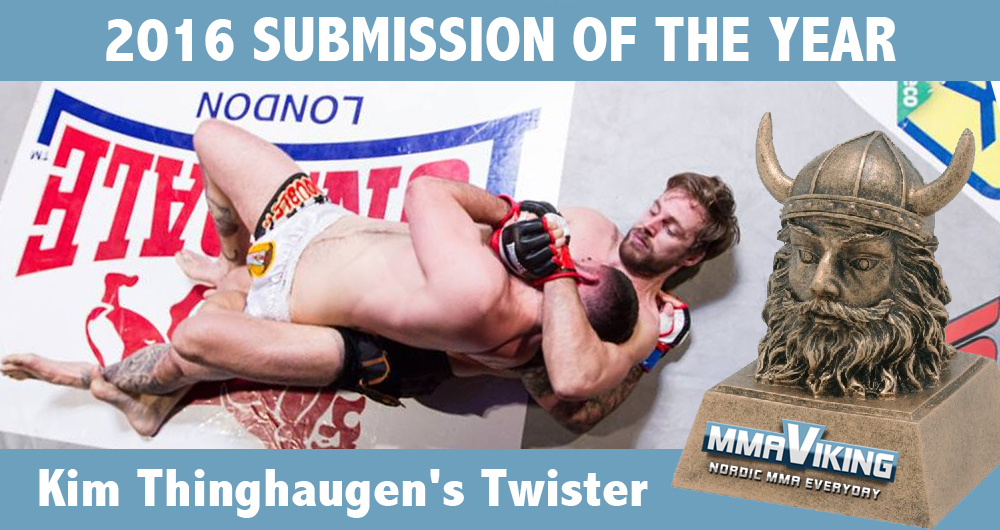 There were a lot of impressive submissions this year with Danes snatching Japanese neckties on the regular and Gunnar Nelson getting Performance of the Night for his rear-naked choke over Albert Tumenov at UFC Rotterdam.
Coming off a TKO win and not having a submission since his pro debut back in 2012, Kimbo's finish came out of nowhere and the Norwegian gets on the distinguished list of award winners, including Toni Tauru's gogoplata in 2013.
Previous Submission of the Year Winners :
• 2015 : Gunnar Nelson at UFC 189
• 2014 : Niklas Backstrom at UFC Fight Night 41
• 2013 : Toni Tauru's Gogoplata at EUMMA 7
• 2012 : Martin Kampmann Guillotine Over Thiago Alves at UFC on FX 2
• 2011 : Bruno Carvalho vs Kyacey Uscola at Superior Challenge 7
Check out a complete listing of all of the awards since the inaugural awards in 2011.