We deemed it a "Nordic MMA Dream" card with four Finns, two Swedes, and a Dane set for European Fighting Challenge's debut card. The Finland based startup promotion was ambitious with their fight card and 7,000 seat Metro Areena booking. Tom Niinimaki who hadn't seen the inside of a cage in 21 months returned to headline the card. The quality of matchups was high with such pairings as Juho Valamaa taking on Karl Amoussou, and Aleksi Mäntykivi versus the previously undefeated Søren Bak to supplement the headliner. Throw in Toni Tauru, Andreas 'Real Steal' Stahl, and Yosef Ali Mohammad, quality brawls, submissions, and unexpected upsets, and there you have your MMAViking.com Nordic Event of the Year.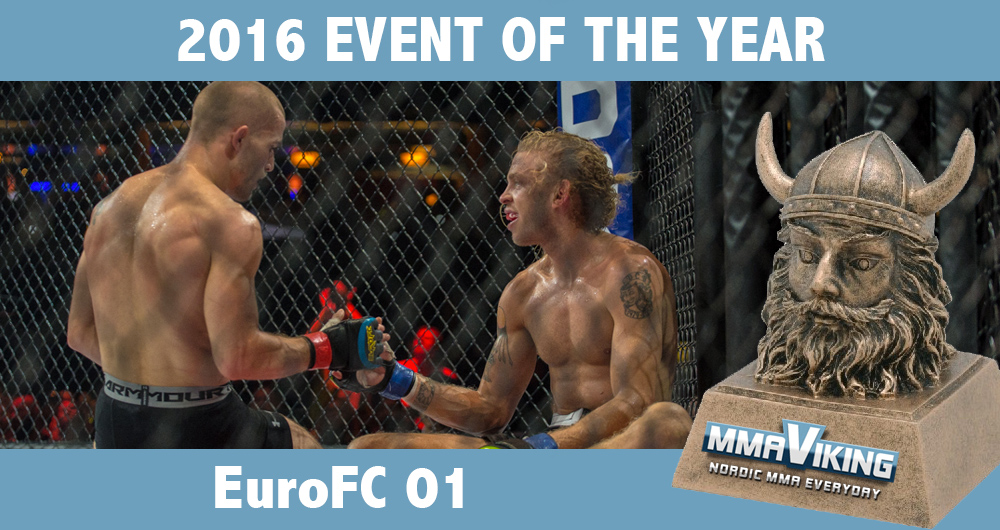 Previous winners include:
• 2015 : Battle of Botnia 2015
• 2014 : Superior Challenge 11
• 2013 : Superior Challenge 9
• 2011 : Fight Festival 31
For an insight into the action, see an excerpt from an Cageside perspective of Euro FC 1 : 'A monumental day' by Iikka Nikkinen below :
The night kicked off with the fight I was looking forward to the most. Soren Bak and Aleksi Mäntykivi are amongst my favourite fighters from the Nordic region. Both bring uniqueness to the cage, both exciting with different kinds of styles. Their walk-in to the cage really told the contrasting styles. Bak coming in with If I Had A Heart by Fever Ray, known from the TV show The Vikings, staying true to his nickname The True Viking.
Then the energy shifted as Mäntykivi storms the arena with Sepultura's Refuse / Resist. You couldn't ask for a better way to start the show. The two fighters battled for control inside the cage, but the dominance was quickly secured by Mäntykivi as he disposed Bak in the first round after knocking Bak down and following with brutal ground and pound.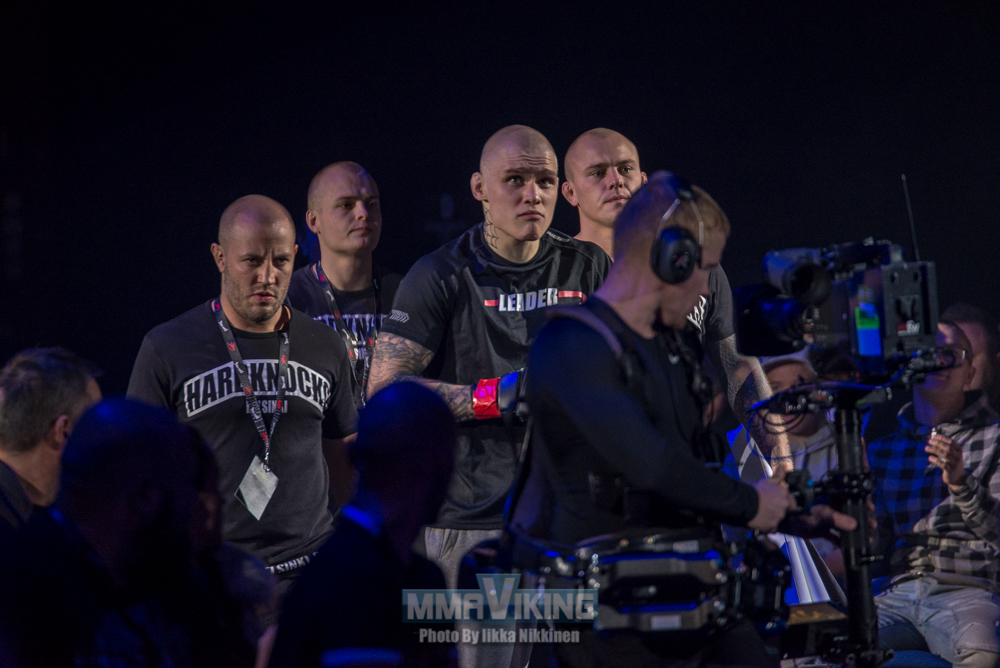 UFC veteran hailing from Umea Sweden, Andreas "The Real Steel" Stahl came into the cage after a huge win at Cage Warriors 76 back in June. He faced off against Georgi Valentinov who has been making a name of himself in Europe with an nine fight win streak. It was definitely a hard fought battle, first round going quite clearly to Valentinov. As the second round ended I saw Stahl shaking and holding his hand and I immediately recognised this as the "I think my hand is broken" acknowledgement. Who knows how the third round would have gone if Stahl's hand had been in shape as you could clearly see a momentum shift going towards Stahl. Eventually it was the twenty three year old Valentinov who secured the decision.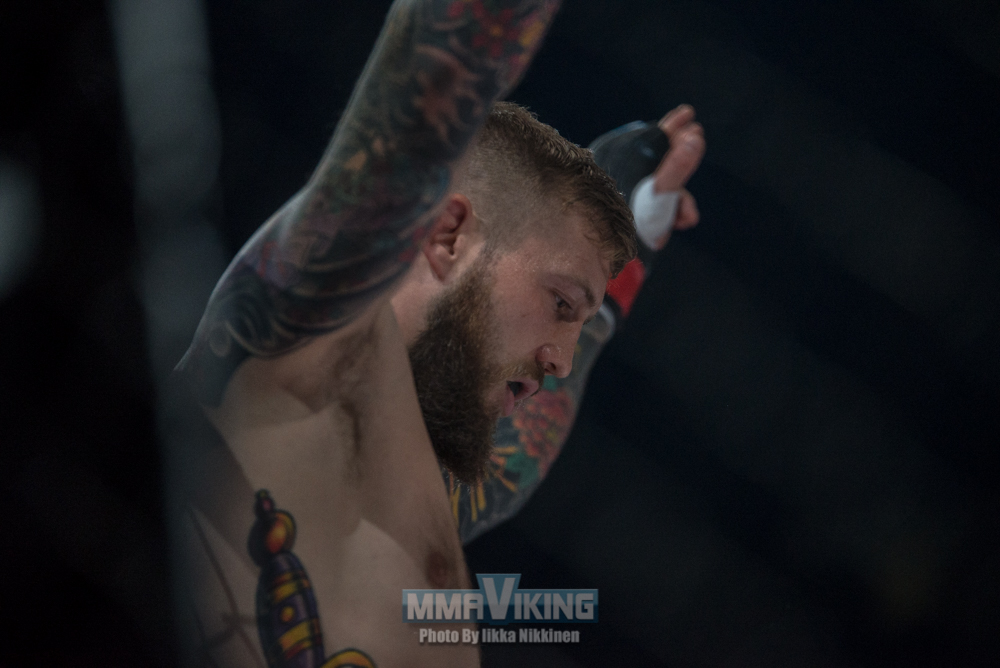 Fourth nordic fighter that stepped into the cage was Toni Tauru, a true pioneer of Nordic MMA. Tauru is known most as the former Cage Warriors bantamweight champion who put together a 10 fight winning streak. After his dominance at CW, Tauru hasn't found success at securing a victory. One must note that the competition that he has faced is not your typical bantamweight fighter, notably One FC bantamweight champion Bibiano Fernandes.
At EuroFC he faced off against Marc Gomez. From my viewpoint at cage side, I noticed early on that Tauru didn't seem to really be in the fight. He didn't look sloppy, but something was slightly off. As the fight continued, I could see Tauru pushing more and more, eventually even gaining control of the fight. Unfortunately for Tauru, Gomez secured the victory via unanimous decision. I hope this is not the last time we see him fight, as he is a great ambassador and pioneer of the sport.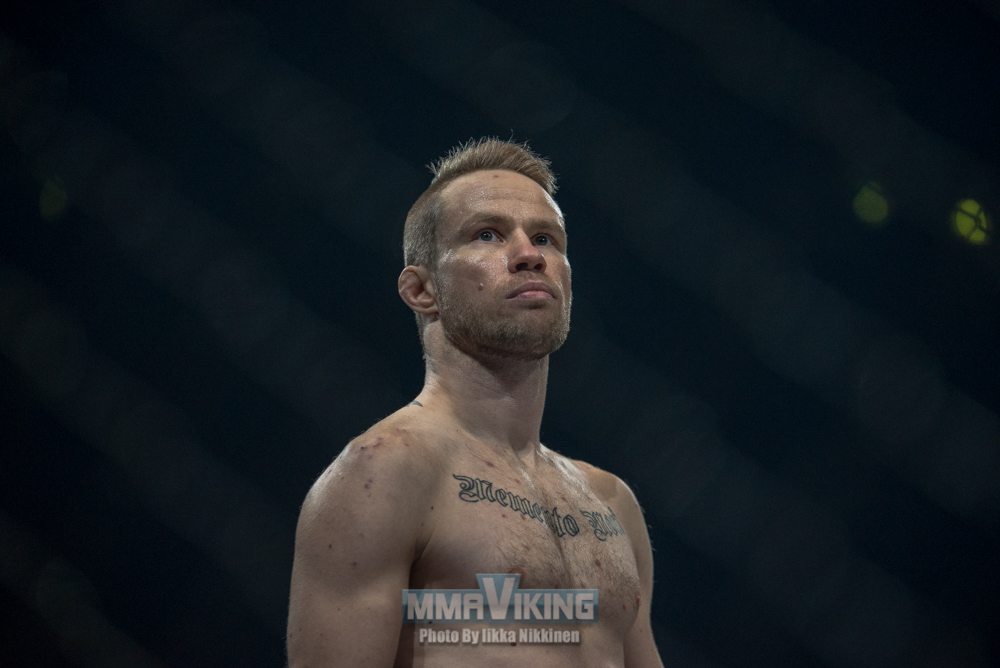 If you've followed European MMA then you know the stakes for the evenings seventh bout between Karl Amoussou and Juho Valamaa. Two top welterweights in Europe, probably fighting for an UFC contract. Amoussou has fought the who's who outside of the number one promotion and the Finn was climbing the ranks to the top echelon of the European welterweight division. Early on the fight Amoussou secured control of the cage, just edging out Valamaa in the exchanges. The two fighters traded a couple of takedowns too, showing their well rounded MMA game.
As the first round had hit the three minute mark I saw a momentum switch, Valamaa clearly started gaining the upper hand but Psycho quickly silenced the crowd with one punch, sending Valamaa to the canvas. I would be lying if I would say that I wasn't shocked and sad. Valamaa is such an awesome human being and I want nothing but the best for him. What a brutal sport we're following, Amoussou demonstrated that in a split second. Now will Amoussou get that UFC contract or are we going to see him fight at Euro FC 2 in Prague? I guess only time will tell.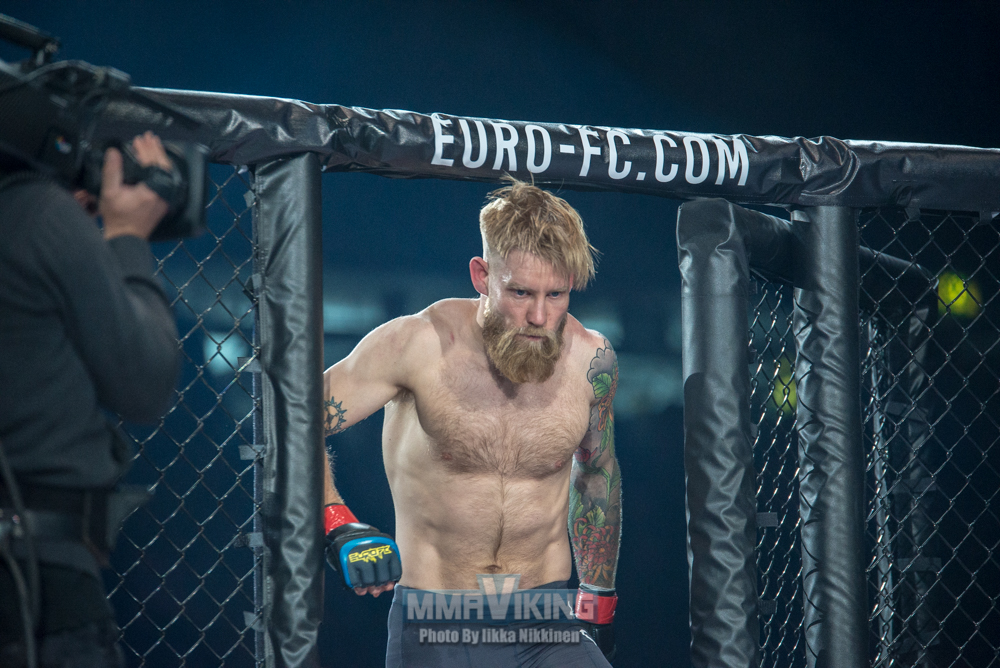 Co-main event of the evening had an insane amount of energy loaded into it, the two goliaths had met before. A year ago in Japan Fernando Rodrigues Jr. knocked out Yosef Ali Mohammad. That energy almost unloaded at the weigh in's on Friday when the two fighters almost came to blows and the organisation staff had to try their best to separate them.
The fighters entrances were greatly different, Mohammad stoically calm and Rodrigues Jr. bubbling with intensity, I was scared to be photographing his entrance. Now knowing their history, I guess you are not surprised to know that in the first round there were two knockdowns and the fight ended in the first round, right? If you thought the fight game is brutal, I think the heavyweight division's brutality is on another level. That's why you need a heavyweight fight on a card, that's why fight fans like a heavyweight fight. Simple as that and this fight was the perfect choice for the co-main event of the evening.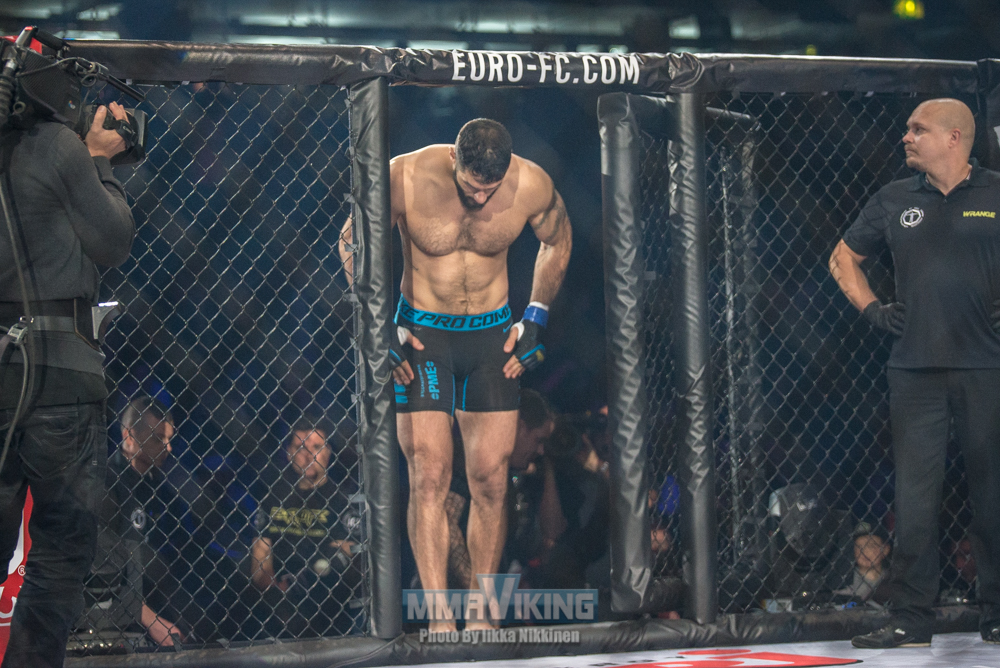 Jonathan Brookins took the fight on a very short notice with Tom Niinimäki and the fight had been agreed on a catchweight limit of 63 kilos that's 3 kilos less than Niinimäki's weight class of 66 kilos! I'm a fan of both of these guys, I've followed Brookings since his fight against Jose Aldo back in 2008. His journey as a human being is one to be inspired about, I highly recommend reading one of the greatest written pieces about an MMA fighter by Shaun Al-Shatti of MMAFighting.
Tom Niinimäki's career started back in the "dark ages of MMA." He's a veteran of the notorious FinnFight events, where the best of the old school era battled with minimum rules. He's stepped away from the sport twice already, after his first break from the sport he came back stronger and better than ever, eventually fighting for the UFC. After his UFC career, Stoneface stepped away from the spotlight. I was very surprised when it was announced that he would be fighting again, positively surprised. Fight fans in Espoo were treated with a technical battle between two crafty fighters. Niinimäki was the bigger of the two and controlled most of the bout but Brookings had his moments in the fight, sinking in a deep deep guillotine in the second round. Niinimäki did defend with great technique and secured the unanimous decision of the fight.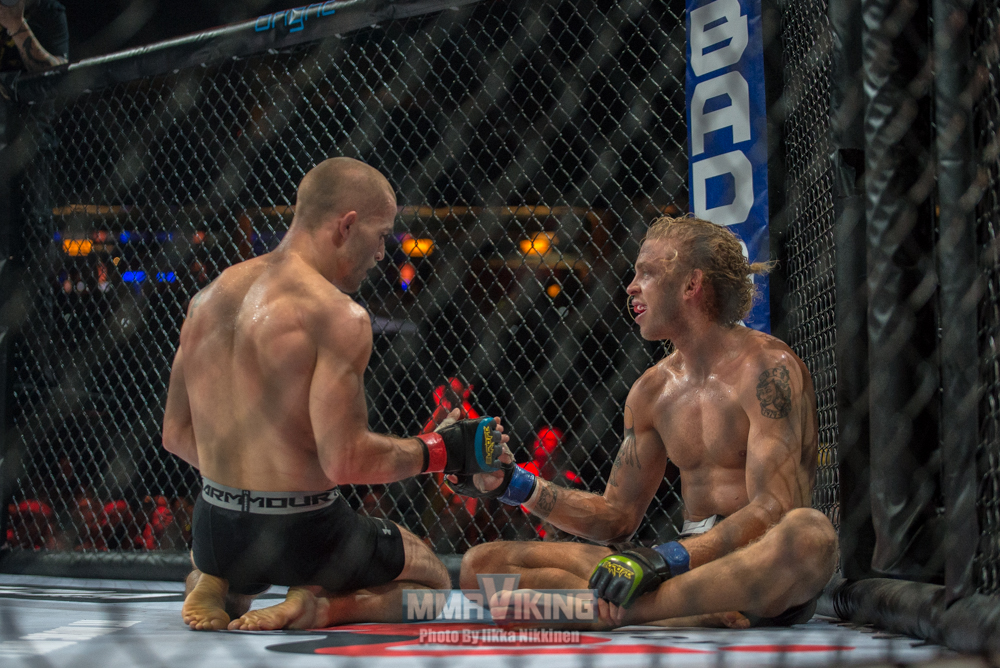 This was a monumental day of the European MMA scene. I'd say it was one of the most important days of any promotion. There were great stakes leading up to the night, Euro FC has clearly stated their intentions of becoming the premier organisation on the continent. And they might have just done it, with just one event behind them. There were empty seats in the Metro Areena, there were technical difficulties and there were some organisational problems ,but if there's one thing that us humans are good at…. it's learning from our errors and mistakes. I'm confident about the fact that once the Euro FC cage is ready to welcome fighters in Prague in February 2017 , we're going to be experiencing what has been missing from European MMA all these years.
(Ryan O'Leary wrote the intro to this award)