Cage Warriors Fighting Championship has begun rebuilding its women's divisions by signing 18 female fighters, including Finland's Eeva Siiskonen. Siiskonen was one of the 18 female fighters from four different weight classes that the promotion signed today.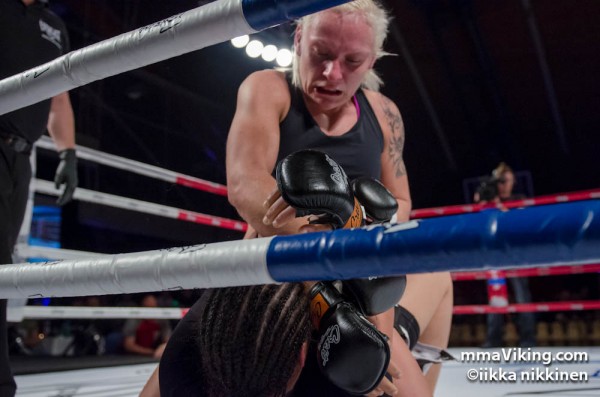 The Nordic bantamweight debuted at Carelia Fight 8 with a win over Myriem el Banouti in September of 2012 and her last bout was another victory over Helin Paara at Cage 20.
The MMA Imatra fighter has already been scheduled to take on Saana Laitinen from Barreto Lahti on Carlia Fight IX on on September 7th, and her Cage Warriors debut is unkown. Siiskonen is ranked #5 in the Nordics by MMAViking.com.
Read the full press release below.
Press Release
CAGE WARRIORS Fighting Championship has begun the process of rejuvenating its women's divisions by securing the signatures of 18 female fighters across four different weight classes.
CWFC is pleased to reveal details of its plans to establish itself as the epicentre of women's MMA in Europe, with agreements also already in place with several other female fighters to sign exclusive five-fight deals with the promotion.
More signings will be announced shortly, but those who have already put pen to paper range from experienced stars like Spanish-based veteran Karla Benitez (10-4) to unbeaten English prospect Laura Howarth (3-0).
Cage Warriors has consistently supported women's MMA in recent years, helping some of the sport's top fighters to showcase their talents, including Rosi Sexton, Sheila Gaff, Joanne Calderwood, Katja Kankaanpaa and Aisling Daly.
The promotion will now take that to the next level, with women's MMA bouts to become a regular feature on CWFC cards as the next wave of female stars are provided with the global platform they deserve.
"This is a hugely significant development for CWFC but it's by no means new territory for the promotion," said Cage Warriors CEO Graham Boylan. "With the exception of the UFC, Cage Warriors is now not only the busiest promotion in MMA, but it's also the place to be for female fighters outside the USA.
"The women we've signed are now with a promotion that's broadcast live on TV into 150 million homes around the globe, as well as being streamed live worldwide. We'll be bringing a lot of exposure their way and helping them to make names for themselves, as we've done in the past with the likes of Conor McGregor and many others.
"Cage Warriors invests from £25,000 to £50,000 in each fighter over the terms of their contracts, so you can rest assured that their stock will rise rapidly as their time with us continues and develops. We reward fighters' commitment to us by investing in them like this.
"I'd like to thank Rosi Sexton for her assistance and advice in putting these plans in place. Her knowledge and experience helped me to make the decisions I needed to make."
Sexton, a former CWFC champion, clocked up a 6-0 Cage Warriors record during her career before recently making history by becoming the first female fighter in the UK to compete in the UFC.
She said: "Cage Warriors have supported me throughout my career and gave me the opportunities which have led to where I am today. I'm very excited to see them making this huge commitment to developing women's MMA, which will give many more up-and-coming female fighters a chance to show what they can do.
"For a long time Europe has been in need of a really strong women's division within a single promotion, to give the female fighters the opportunity to fight regularly against good opponents on top quality shows. It gives all the female fighters out there something to aim towards. This is just the first step and I can't wait to see how it develops."
Fighters have been signed in the women's atomweight, strawweight, flyweight and bantamweight divisions, with Cage Warriors also keen to develop a featherweight division in due course. See below for details of the 18 fighters who have signed exclusive five-fight contracts:
CATHERINE COSTIGAN
Division: Atomweight
Record: 2-0
Age: 33
Country: Ireland
VANESSA REINSCH
Division: Atomweight
Record: 1-1
Age: 25
Country: Germany
VANESSA RICO
Division: Atomweight
Record: 0-1
Age: 32
Country: Spain
KARLA BENITEZ (pictured)
Division: Strawweight
Record: 10-4-0-1nc
Age: 34
Country: Spain
IRENE CABELLO
Division: Strawweight
Record: 1-1
Age: 20
Country: Spain
KIRSTY DAVIS
Division: Strawweight
Record: 0-0
Age: 36
Country: Spain
CHLOE HINCHCLIFFE
Division: Flyweight
Record: 1-3-0-1nc
Age: 24
Country: England
KATE JACKSON
Division: Flyweight
Record: 4-2
Age: 26
Country: England
RACHAEL MCMILLAN
Division: Flyweight
Record: 0-0
Age: 25
Country: England
SLAVKA VITALI
Division: Flyweight
Record: 2-0
Age: 38
Country: Italy
LJ ADAMS
Division: Bantamweight
Record: 1-1
Age: 29
Country: England
EMMA DELANEY
Division: Bantamweight
Record: 0-0
Age: 31
Country: England
LAURA HOWARTH
Division: Bantamweight
Record: 3-0
Age: 26
Country: England
KERRY HUGHES
Division: Bantamweight
Record: 0-0
Age: 28
Country: England
AMANDA KELLY
Division: Bantamweight
Record: 0-0
Age: 31
Country: England
AGNIESZKA NIEDZWIEDZ
Division: Bantamweight
Record: 3-0
Age: 18
Country: Poland
EEVA SIISKONEN
Division: Bantamweight
Record: 2-0
Age: 31
Country: Finland
HANNAH STEPHENS
Division: Bantamweight
Record: 1-1
Age: 22
Country: England