Nordic MMA slows down a bit as the sun comes out for the summer, so I decided to take a look back and make a quick list of awesome things that have happened so far in 2012.  I could have made a list of 40 or 50 easily, as it's just been an action-packed, amazing year.  Anyway, nothing too scientific, just a fun list, so feel free to comment and include anything you think should be added.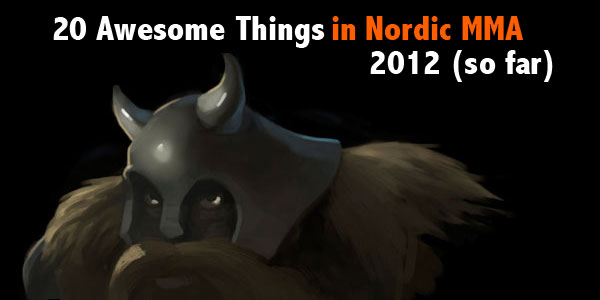 20. Vision FC & Scottish Fight Challenge Merge
Recently organizers from Scottish Fight Challenge (SFC), one of Scotland's top MMA promotions, became one with Sweden's VISION FC.  The merger will put the popular UK promotion together with the Scandinavian promotion and give Swede and UK fighters the ability to fight each other, plus international talent that is drawn in to battle for the titles and take-on top contenders. Can't wait to see more of these fight cards, as the recent "Fight Night" in Karlstad was rockin.
19. MMAnytt/Studio MMA's reporter Marcus Kowal Interview with UFC president Dana White
Not too many in the media get more than a few minutes with the president of the UFC, but Sweden's own MMANytt.se was able to secure a long sit-down format interview with Dana White leading up to the UFC in Sweden. Kowal's maturity, MMA insights, and natural ability to re-direct conversation is to be commended.

Add in MMAnytt's Studio MMA program, focused on upcoming events, and you'll see a site pushing the envelope forward.
18. Kimura.se's MMA Panelen Partners with Sportbladet
Showing a move into mainstream for MMA, Kimura.se's produced MMA Panelen program is now shown on the largely distributed and viewed sport section of Sweden's Aftenbladet.  The program hosted by Simon Kölle and Paul del Valle focus on local and international MMA will be brought to a broader audience, and bring more people exposure to the sport.
17. The International MMA Federation is launched from Sweden
Leading up to the UFC in Stockholm, all eyes were on Sweden. When Marshall Zelaznik announced at the press conference that the UFC's backing of IMMAF, a new non-profit organization with the goal to organize and drive the development of the sport on a worldwide basis, for a few days it seemed that Scandinavia was the center of the MMA universe.
The next night, the Dana White talked about IMMAF at the post-fight press conference, and the UFC's support, plus soon after Marc Ratner joined showed the importance of the organizations creation. With August Wallen as IMMAF president, the former Swedish MMA president, it's remarkable that the foundation for worldwide sanctioning and acceptance as MMA as a sport and entry into the Olympics could stem from here.

For four months leading up to the debut of the UFC in any Nordic country was huge. The tickets were gone in a day, and Nordic fighters were getting called to make there debut in the Octogan left and right. It was an exciting time… all the lead-up, rumors, fight announcements, autograph signings. When the weigh-ins arrived a day before the big event, and fans packed Globen to cheer the local Swedes and Norwegian, the reality of the event had finally arrived… and it was awesome.

15. Nordic Fighter Dominate at Cage Warriors
Cage Warriors Fight Night 3 took place at Habtoor Grand Hotel Convention Center & Spa in Beirut, Lebanon, in February. Even though the event took place in the Middle East, with fighters from around the world, it was the Nordic fighters that stole the show.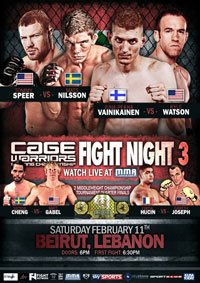 Finland's J-P Vainikainen, Portugal's Domingos Mestre fighting out of Sweden, Victor Cheng, Matteus Lahdesmaki, Mats Nilsson were all victorious. When typically you find one or two Nordic fighters on an international card, this one was packed…. and they all won. Proud night for Nordic MMA.
14. The Zone FC Demolition
It had been a year since The Zone FC had a show, but it was worth the wait. Top Nordic fighters Kakai, Njie, and Svensson were put on display, taking on outside talent. Add in the super match-up between #1 and #2 ranked Nordic fighters Tor Troeng and Mats Nilsson, and it was a card not to be missed. The undercard was solid, and the packed house at Liseberg in Gothenburg loved it all.  See Njie's exclusive interview, who's drop to welterweight and title win at this event and also Cage Warriors should be on this list, too.
13. Royal Arena Rocks Dannish MMA
Royal Arena entered Denmark MMA with a boom.   The March 10th event was on TV 2 sport, a major channel, and even the prelims were streamed on-line.  The win helped propel Mikkel Parlo to Bellator, too.  Time will tell what will happen to the promotion, but the debut's impact in the popular media and the public was significant, and we deemed it as a royal success!
12. Sirwan Kakai's Return to the Cage
It's been too long since Nordic's top bantamweight Sirwan Kakai has been in the cage.  Being teased about getting signed to the UFC has not let down the spirits of the fighter training at ATT and GBG MMA.  After shaking some ring-rust early in his title bout at the Zone FC demolition, the Swede was able to turn it up and finish in round 3 with a TKO.  See exclusive interview with Kakai.
11. Katja Kankaanpää Headlines and Wins Botnia Punishment XI
It was already pretty cool that Botnia Punishment XI was headlined by a woman's bout, but one that cast Nordic's top-ranked woman Katja Kankaanpää (6-0) against Japanase Mei "V.V" Yamaguchi (9-4-1) in the main event was not to be missed. The undefeated Finn proved to be too strong and athletic for the Valkyrie Champ, and the locals at the Rytmikorjaamo event center in Seinäjoki, Finland, were able to see one of there own dominate a well-respected, top international fighter.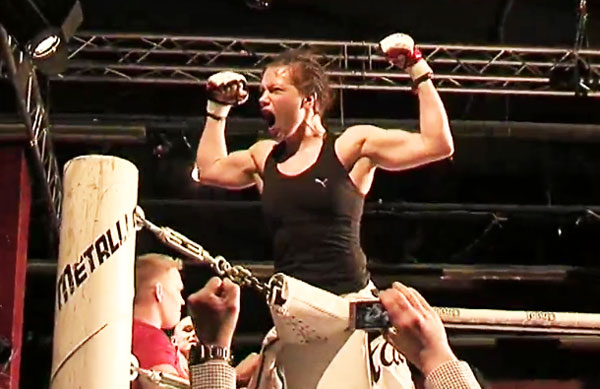 10. Norway's Push for Legalizing MMA
Det Norske MMA Forbundet (Norwegian MMA Federation) or NMMAF has been picking up steam and attention to try and take the steps necessary to legalize and sanction MMA in Norway. NMMAF also became the second member of the International MMA Federation, showing it's movement forward for the Nordic country.  With legends Hellboy and Einemo making waves in international MMA, it would be fantastic to see the new up-and-coming Norwegians to be able to compete in their home country.
9. Niklas Bäckström's Stepping-up As a Late Replacement
Niklas Bäckström broke his hand just a day before he was going to be featured on Cage Warriors FN 2 Card last year, and a couple months ago he had no fights lined-up. This all changed when the HILTI fighter stepped in after Greger Forsell was injured on a week's notice for a victory at Botnia Punishment XI… and just a few weeks later, the Swede was a late replacement on the Vision Fight Night 1 card, racking up another win over veteran Thomas Moon Lee Hytten. Two short-notice victories in 2012 have helped put Bäckström back on the map as a top Nordic featherweight.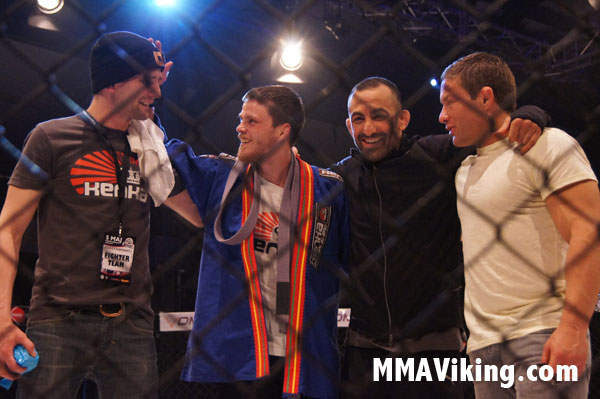 8. The Return to MMA for Gunnar Nelson
Iceland's Gunnar Nelson won with a submission over Alexander Butenko at Cage Contenders XII. The bout in February marked a return to MMA after a year and a half, and showed the world that the welterweight is one of the best outside of a major promotion.  The potential of this undefeated grappler is still unknown, and we can't wait to see what is next.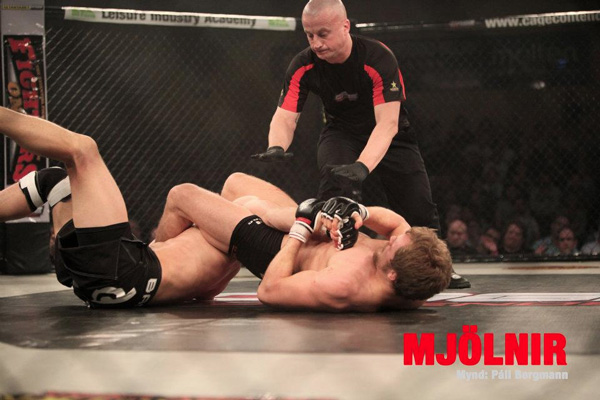 7. Super Swedish Matchup of Tor Troeng Versus Mats Nilsson
The bout between the top Swedes surprised many.  First, it is unusual that experienced Swedes face-off in any meaningful bouts, but these are the top two ranked Nordic fighters. It was a fantastic commitment on Swedish soil, and the bout did not disappoint.  The bout was the highest quality bout on Swedish soil, and the back-and-forth action didn't disappoint.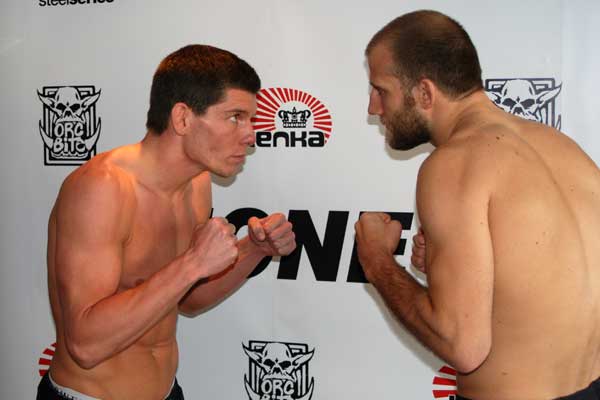 Troeng's variety of up-kicks and uppercuts marked the difference in the standup, but Nilsson was game and moved forward with aggression, even landing some heavy punches and a beautiful sweep take-down in the third round to show why these are the two best middleweights around.  With Nilsson signed to Cage Warriors, and Troeng on the verge of getting signed to the UFC, the future is bright for these two fighters that are still improving their game match-by-match.
6. Andreas "Sweet Swede" Spång's KO at Bellator
The Swede came out of seemingly nowhere to shock the Cleveland, Ohio crowd by knocking out the local Brian Rogers in the second round of an action packed fight. After looking like the top American prospect may continue his run through the Bellator tournament over the late-replacement, BOOM! Spång heavy hands dropped the fighter, and punched his ticket to a title shot.

5. Kampmann Finishes Alves at UFC on FX 2
Denmark's Martin Kampmann was close to a unanimous decision loss at the hands of Brazilian Thiago Alves in March.  The fight looked to be going against the Nordic fighter, as he was rocked in the third round with powerful Alves.  "The Pitbull" was looking to finish the fight in style with a take-down to secure his victory, but Kampmann locked on a guillotine choke at 4:12 of round 3 to finish the fight.  With only one minute left, The Hitman pulled out the surprise finish.
4. Finns Kuivanen and Vänttinen Breakthrough to Major Promotions
While Swede's were getting snatched up to the UFC left and right in 2012, it seemed like Finn's were being ignored from major promotions.  This changed quickly as lightweight star Anton Kuivanen was signed to fight in the Octagon on the UFC on Fuel, the first from Finland since Tony Halme took on Randy Couture in 1997.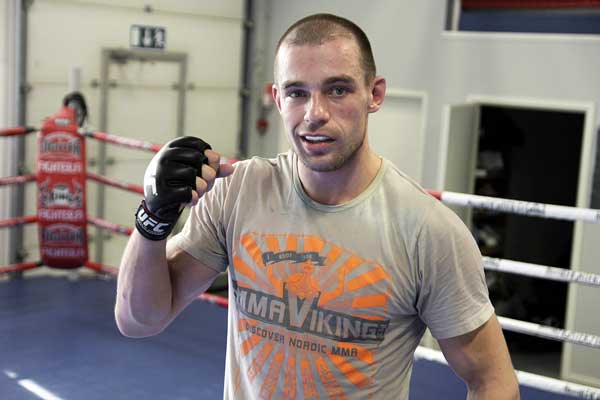 Marcus Vänttinen took the stage at Bellator 66 to help push Finland MMA forward.  Although both fighters lost, they are on the biggest stage, and will be returning to action shortly for there sophomore efforts.
3. Reza Madadi's Submission at UFC in Sweden
Mad Dog fans came out in huge numbers for the UFC in Sweden. At the weigh-ins and during his Octagon debut in his hometown of Stockholm, it was Madadi with the big cheers. After finding himself in a standup battle with a very tought Cuban-American Yoislandy Izquierdo, Madadi looked like he was in for a long night. But everything changed in the second round when Madadi scrambled his way to a guillotine submission at the 1:28 mark. The crowd eruppted, and Madadi soaked it all in with a celebration on the Octagon.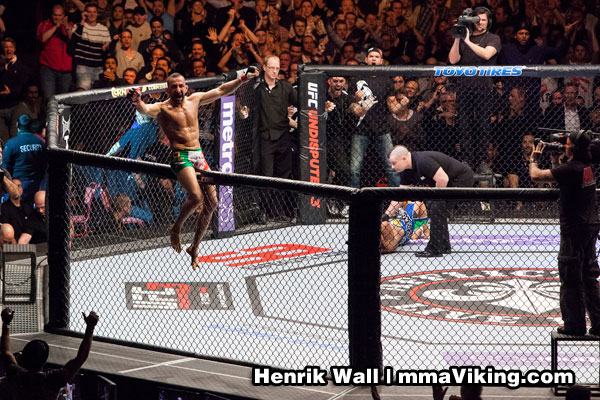 2. Simeon Thoresen Takes One for Norway
Simeon Thoresen was victorious on the UFC in Sweden's card. Known as "The Grin", the Norwegian and his team was all smiles as Norway secured its first win in the Octagon. "It is so important for Norwegian MMA to finally have a Norwegian to win a fight in the UFC." says Thoresen to MMA Viking, who follows-up in the footsteps of the Dan Evensen and John Olav Einemo who were unsuccessful in his attempts to win UFC bouts.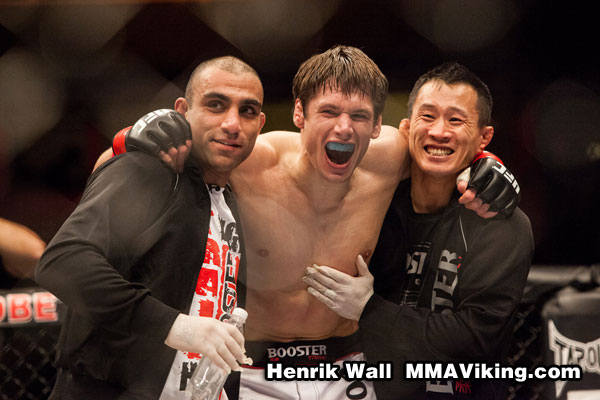 1. Alexander Gustafsson Beating Thiago Silva in Globen
Everything was awesome about the UFC in Sweden. The Mauler made it a perfect ending by dominating the visiting Brazilian… getting the buzz going about a title shot, and showing the world that he is a real contender.  The atmosphere at Globen was electric, and Gustafsson put on a show.
Special Thanks
The first half of 2012 was also a great year for MMA Viking. First, NordicBet became a sponsor of the website, that has helped MMA Viking bring more video and live coverage to the website. Daniel Schälander, aka mrspiderpigbegins, has led this aspect of production and video –see the Nico Musoke series if you want some idea of the work.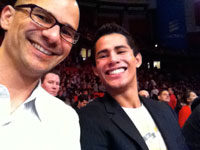 Joona Pylkäs is the man when it comes to all things MMA, but the Nordic MMA rankings that he leads couldn't be more insightful or on point. I look forward to promotions and other media using them when referring to fighters rankings.
Also, it's been great to learn more about Danish MMA from FightFan.dk.  The site cranks out insightful interviews, plus puts up amazing photos.  Check them out. Also, it been great to see the launch of new Finnish combat sports site FightSport.fi.  Check them out.
The MMAViking.com shirts that Meddi Kabirzadeh designed were also awesome –see Anton Kuivanen's shirt above =). It all seems a bit more real. I think I need to get some extra print on it that says…. "I've blogged for 4 years and all I got was this t-shirt" =) Watch out for the "I root for brand", they rock. Also, hoodies coming soon!
One last thing…. when MMAViking.com was launched in 2008, the site was largely dedicated to bringing the UFC to Sweden and bringing attention to Swedish fighters that should be on the card.  Having media credentials at the event four years later, it was surreal to be able to ask Dana (yea, we are that close now =) questions at the press conference and then talking to a Swede (Alex of course) who won in the main event was also pretty awesome. It wouldn't be too Swedish to have something in the top 20 above about MMA Viking, so I'll put it here.  Below is my questioning to Dana and Alex at the post-fight conference…. what an answer, and White says "Awesome" when talking about the event in Sweden!
There will be a lot of awesome things later in the year, and we at MMA Viking can't wait to add to the list for the second half of the year! Again, comments and feedback would be appreciated.
Cheers,
Ryan